Time Warp: The GM Strike, Then and Now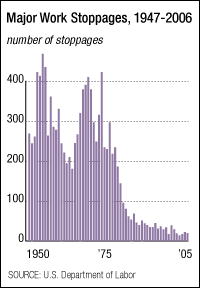 What a difference 37 years makes.
The last time the United Auto Workers called a nationwide strike against General Motors was in 1970. That strike lasted 67 days, triggering layoffs at parts suppliers and steel companies and dominating headlines.
This week's strike lasted just two days — hardly making a dent in the economy and competing with other stories for the nation's attention.
Why the difference? The answer lies in the dwindling fortunes of GM and the UAW.
The 1970 strike was a "titanic clash between two massive permanent entities," says Jefferson Cowie, a professor or labor history at Cornell University. "They were both the backbone of America at the time."
In 1970, General Motors was the biggest automaker and the largest employer in the world. The 1973 oil crisis was years away, as was the threat from low-cost Japanese automakers. GM, along with Ford and Chrysler, could barely keep up with demand.
The UAW, meanwhile, was enjoying a Golden Age. Its membership was growing, with 400,000 workers at GM alone, as was its political clout. It was big labor at its most muscular, and strikes were common. That same year, more than 2 million American workers in various industries walked off the job.
GM had deep enough coffers to weather a two-month strike and the UAW turned to the powerful Teamsters Union for financial support. In the end, the union prevailed, winning a 13 percent pay raise and other concessions.
Flash forward 37 years and the picture could hardly be more different. GM faces an increasingly globalized auto industry and, in particular, threats from Japanese automakers. GM has lost $12.3 billion in the last two years and seen its share of the U.S. auto market shrink to 24 percent, compared with 46 percent in 1978.
The UAW, meanwhile, has seen its membership — and its clout — shrivel. None of the so-called transplants — Japanese and European automakers with factories in the U.S. — is unionized. Rather than a struggle for supremacy, this short-lived strike represented a struggle for survival.
Ron Gettelfinger. the head of the UAW, said the union's No. 1 issue was not working conditions or wages. It was job security.
Neither side could afford a messy, protracted strike, so the tentative agreement reached early this morning comes as little surprise. Both sides have bought some more time. Ironically, those generous pension benefits that the UAW won back in 1970 "have come home to roost," says labor historian Cowie. So-called "legacy costs" were another major issues in the recent strike.
The UAW walks away with "a mixed-bag," says Cowie. "But a mixed bag is better than being crushed."