Elizabeth Edwards Takes Candor on Campaign Trail
Elizabeth Edwards Takes Candor on Campaign Trail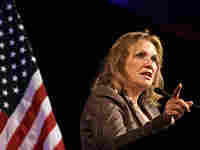 Yuri Gripas/AFP/Getty Images
The Man Behind the Run
The notion of a "running mate" has taken on new meaning in the 2008 presidential race as campaign spouses have stepped into the spotlight. Elizabeth Edwards, wife of Democratic presidential candidate John Edwards, is one partner who has taken to the campaign trail.
Known as a person who is not afraid to speak her mind, Edwards was recently in Lee, N.H., stumping for her husband.
Edwards' sharp-tongued candor sometimes earns her as much attention as her husband. She has said that Barack Obama's positions on Iraq are "holier than thou," and she has described Hillary Clinton as "divisive and unelectable."
'I've Got an Easy Job'
But on her recent trip, Edwards focused on only one candidate: the one she's married to.
"We have the most progressive candidate, and we have the best chance of winning. I think we can all go home now, can't we?" she tells a group of about 75 New Hampshire voters packed into the family room of a private home.
"I feel like I've got such an easy job because we have this constellation of things that we rarely get in a candidate, but we have it this year," she says.
The 58-year-old exudes a folksy intelligence: a political wife with a law degree who seems like she could whip up a batch of apple fritters while ticking through the finer points of foreign policy.
Campaigning Despite Cancer
Edwards is a campaign spouse with a degree of celebrity in her own right. That's largely due to her book, Saving Graces, which details how she coped with the death of her 16-year-old son in 1996 and the discovery of breast cancer in 2004.
This spring, Elizabeth and John Edwards announced that her breast cancer had returned, this time in a treatable, but incurable form.
Yet the Edwardses decided to press ahead. They took their two youngest children out of school to tutor them on the road so the family could campaign full time.
Edwards says she is not a surrogate for her husband, but a strong opening act.
"My dream is to drive people to go listen to him," Edwards says. "If people ask questions, become interested in his policies or his vision, or even his story, and that makes them go listen to him, to decide whether he has what it takes to be president, then I've done my job."
And when the campaigning gets rough and tumble, Edwards says she will be willing to respond.
Strong Enough to Take It — and Hit Back
"John's father used to tell him when he was a boy, 'Aim for the nose, you get more bang for your buck there,' so you have to aim for their vulnerability and make them understand there's a cost associated with attacking you.
"You're not going to lay down; you're strong enough, not only to take it , but to hit back. It gives you an opportunity — when you're fighting on even ground — to redirect the conversation to something more productive for voters," Edwards says.
Edwards says she never reconsiders her decision to campaign for her husband during her illness. And when asked about whether her illness will affect John Edwards' ability to be a leader, she is characteristically forthright.
When their son died in 1996, Elizabeth Edwards says, her husband John did not "pull the covers over his head."
"He can do more than one thing at one time, even when one of the things is incredibly devastating," she says.