Love, Loss and an Imposter in the Kitchen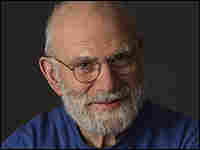 Photo by Elena Seibert, courtesy of Oliver Sacks
The plant was a gift.
It was an odd gift to be sure. The plant was a thin strand of green stem, with a top that branched and produced a little green ball. It had no flowers, no leaves, nothing you could call pretty.
But Oliver Sacks loved it. He put it in a pot.
The pot sat in a favored spot in his kitchen in Greenwich Village.
And when he was asked: "What's with the ugly wiry thing in your kitchen?," he would sigh and say that, while it looked very plain, it had a remarkable story. And then he would tell the story.
Back in the late 1990s, Dr. Oliver Sacks, renowned author, neurologist and fern lover, was lecturing at Brown University. As a thank you gift, a professor there gave him a psilotum. Psilotum may not look like much, but Oliver loved ancient plants and knew that botanists had declared that these plain little stalks were a very, very old species — so ancient they first evolved about half a billion years ago during the Silurian era.
The First Terrestrial Plant Ever?
Back then all living things — everything — lived in the sea. Underwater, there were early fish and trilobites. You could find seaweed and some green plants, but there was nothing on land. The earth, the dry earth, was all rock. Totally bare.
That was until a group of plants called psilophytes, including psilotum, scientists said, poked their heads out of the water at low tide and, for the first time, created a blush of green on the surface of the planet.
So psilotum, then, were legendary pioneers — the first land dwellers — and after them came leafy plants, the first ferns, and then cone-bearing plants. Much later came flowering plants and, soon, the world was filled with colorful, self-advertising, glamorous-looking life forms that got all the attention. And yet, all the while, boring, ignorable, ugly psilotum stuck around, the books said. It was the pioneer that everybody forgot. Except a few die-hard ancient plant lovers, like Oliver.
A Life Or Death Struggle
Our story, broadcast on NPR's Day To Day (you can hear it by pressing the "Listen" button up above) describes first how Oliver's plant was attacked by sapsuckers, how he fought back with cotton swabs, alcohol, conceptual art and dioramas (don't ask, just listen), how the plant, alas, succumbed — and how he mourned.
And then, the telephone rang.
The Phone Call
It was a biologist friend calling to say that he'd just read that psilotum had recently had its genome described and that, to everyone's amazement, this botanically famous pioneer from half a billion years ago was actually an imposter.
It looked almost exactly like ancient psilophyte fossils from the Silurian Era — same shape, same size, same details — and yet, while it's outside looked old, its inside was relatively modern. It seemed to be a drastically simple version of a fern.
Oliver was doubly saddened.
He'd not only lost his houseplant, which has been "cremated" — but he lost the thing he prizes more than anything: a ripping good yarn. What sat in his kitchen was not the last remnant of a noble, quiet, modest species that changed the world. What sat in his kitchen was a skinny fern.