Myopic: 'As Much As You Can III'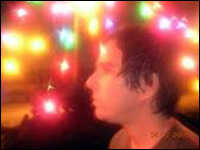 Myopic is a music project started by Jeff Ryan of the Dallas experimental rock band Pleasant Grove. On his CD, Plays in Pieces, Jeff skillfully orchestrates ambient, electronic grooves using bells, keyboards, and drums.
In the song "As Much as You Can III", bells play complicated patterns to create a subtle melody while synth phases in the background. The delicate piano piece, "Things I Saw", sounds like it could be a dramatic film score which is not surprising since Jeff's music has already been used in several theatrical productions.
For "As Much As You Can III", Jeff Ryan worked with producer Stuart Sikes (Cat Power, the Walkmen, the White Stripes). Todd Gauthreaux also contributed guitar and keyboards on the recording.
Jeff is currently finishing the recording for the full length release of Plays in Pieces.