Soul Diva Chaka Khan, 'Through the Fire'
Singer/Songwriter's Memoir a Chronicle of Heartbreak and Survival
Hear Part II of the Interview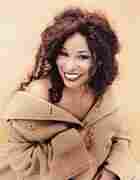 Chaka Khan Hits
Hear samples of some of her greatest hit tunes:
'Ain't Nobody'
'Through the Fire'
'Tell Me Something Good'
'Sweet Thing'
'Hollywood'
'What Cha Gonna Do for Me?'
In 1973, Chaka Khan burst on the music scene as the lead vocalist for one of the first popular multi-racial bands, Rufus.
Now, some three decades later, the award-winning singer can say she's set the standard in nearly every music genre ranging from pop, rock 'n' roll, disco and R&B. Critics say the combination of her signature sound, vocal range and fusion of music genres have left a lasting impact on the music industry.
Today, at age 50, Khan looks back at her life in her memoir Chaka! Through the Fire. She talks about her past life and the road ahead with NPR's Tavis Smiley.
The memoir details her turbulent but culturally rich childhood in Chicago, where as a teenager she spent time hanging out with the Black Panthers.
Her illustrious career includes Grammy-winning moments for tunes like "Tell Me Something Good" and "What Cha Gonna Do for Me?" One of her idols is Miles Davis — one of a group of people Khan dedicates her book to. Davis once said Khan sings like he plays his trumpet.
The memoir also details the lows — the failed relationships and addictions that tested her will. The first sentence of her book hints at those trials: "A lot of people think it's a miracle that I didn't wind up like Hendrix or Joplin."
Khan has a new CD in the works, an upcoming television special, and has been crafting tunes with younger stars such as Wyclef Jean, Doug Rasheed and Raphael Saadiq.
Related NPR Stories
Web Resources