The Buffalo Philharmonic Joins From the Top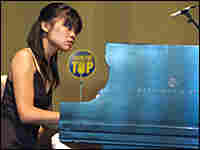 This week's From the Top comes from Artpark in Lewiston, New York, where four outstanding teenage musicians perform with the Buffalo Philharmonic and its music director JoAnn Falletta.
18-year-old Stephanie Chen mixes music with math. Next year she heads to Juilliard for music while attending Columbia University for pre-med classes. She teams up with host Christopher O'Riley to play the slow movement from Francis Poulenc's Concerto for Two Pianos.
Also, Alexander Boissonnault, 18, tackles music from Wieniawski's Violin Concerto No. 2. His mom was a Suzuki violin teacher, so Alex says he didn't have much choice when it came to instruments.
Eleven-year-old Sarina Zhang is both a pianist and cellist. She plays music from Haydn's Cello Concerto No. 1. She was first on From the Top when she was just eight. And, bassoonist Noah Brown, 17, performs the first movement of Mozart's Bassoon Concerto in B-flat major.