A Day in the Life of a Tireless Imam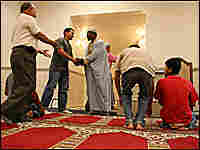 If you think a religious life is slow and contemplative, you've never met Imam Sheikh Rashid Lamptey. From before dawn until nearly midnight, the young Muslim cleric is dashing from prayer to person, putting out brushfires and doling out spiritual guidance.
Two months ago, Imam Lamptey cut the ribbon on the new Dar Al Noor mosque in Manassas, Va. The mosque sits near a busy highway, but at 5:30 in the morning, very little stirs except for the crickets.
Inside the building, a couple dozen sleepy men and women slip off their shoes and quietly kneel in a large room, facing east. At precisely 5:45 a.m., a slim, nimble man in a mauve robe and burgundy cap rushes into the room. After a quiet moment of reflection, he calls the faithful to prayer in a haunting, elegant song.
The Role of an Imam
Most days, Lamptey leads devout worshippers through the dawn prayer before they drive off to work. Even for the 35-year-old imam with boundless energy, it's a little early.
"You have to be up at 4," Lamptey says, laughing, "putting cold water on your body, washing all your sleep away, and standing for some time for God, bowing and prostrating. It's not very easy, actually. It is a test."
By 7 a.m. or so, he sits in his study, lined with leather volumes of books about Islam, Christianity, Judaism. When asked to define his job, Imam Lamptey, who came to this country from Ghana four years ago, gives a surprising answer.
"The imam is a negotiator. He's a social leader. He's a teacher, a guide, a mediator, an arbitrator," Lamptey says, ticking off his tasks on his fingers. "And sometimes, he goes spiritual, where he makes prayer for people, to smooth and calm them."
Guiding Worshipers in Post-Sept. 11 America
In post-Sept. 11 America, Lamptey says his job description includes helping his people live out Islam in an often suspicious society.
"We have to really know how to package the religion and give it out. Because a lot of people — because of what's going on today — think that if you're religious, then you have to be a very rigid person, who's always out there to probably kill, or make people feel like 'us and them,'" Lamptey says.
The next few hours are the only personal time in his 16-hour day, and he uses them to meet a deadline. He has to write a sermon by noon — one of three sermons he will preach this day, along with five prayers.
During the noon sermon, Lamptey paces the floor. His voice quiet, then booming, he tells the 300 worshippers that if they follow the Prophet's words, they must be model citizens and treat unbelievers with kindness.
"If we could do this, we could be virtual angels walking the face of the Earth," Lamptey says, toggling easily from English to Arabic.
After the service, worshippers line up to get the imam's advice and encouragement. One woman needs a tutor to teach her two boys Arabic. Another worshipper's mother is sick. A third man tells the imam he just opened another store, and Lamptey thanks him for his financial generosity to the mosque, praying for him in the crowded lobby.
Tireless Devotion
Lamptey will spend the better part of five hours counseling some of the 1,000 members of this mosque. Around 3 p.m., flagging a little, he climbs the stairs to his office for even more counseling.
A young man greets him. Ali Feroz has come for advice. He's a graduate student with a young family, and he is having trouble paying his bills without a student loan. But the Koran forbids debt, and Feroz is not convinced the Islamic banks that give no-interest loans are theologically legitimate.
"It's like it's given in the name of Islamic banking, but they do the same thing, you know what I mean?" Feroz says.
The imam laughs softly, and leans forward at his desk.
Lamptey tells him: "Look, in Islam, if the person comes on the day of judgment and Allah asks the question, 'Why did you do business with interest?' You say, 'A brother came to me and said I would not have to pay interest. He is actually taking interest out of the business. So I trusted him and I followed him.' You will not bear any responsibility that day."
Lamptey loves this sort of thing — using the compass of Islam to negotiate this modern, worldly, capitalist country called the United States.
Soon we're shooed out. Feroz wants some personal advice.
A Brief Visit Home
Lamptey emerges from his meetings at around 4 p.m. with his car keys in hand. He's supposed to drop by his home — which he bought thanks to a no-interest loan with an Islamic bank — for a quick meal with his wife and nine-month-old daughter, who has just taken a spill when we walk in the house. Her cries seem to fit the cacophony of the imam's day.
Lamptey scoops up Jalilah as his wife sets down a feast of cheese and crackers and chicken salad on the kitchen table.
"This is my first meal of the day," Lamptey says, his mouth filled with crackers.
It is 4:30 in the afternoon.
"This is what happens, actually. Sometimes you get so busy, you don't feel like eating. Always my wife advises me not to do that. She tells me to eat on time. I've yet to listen," Lamptey says.
His glances slyly at his wife, Jerusha, who shrugs. Jerusha was raised in Connecticut. A nominal Christian, she converted to Islam after college. She has just started a Ph.D. program at Georgetown University. Lamptey takes care of their infant when she's in class. She says that when she married an imam, she knew what she was getting into.
"I see him a lot," Jerusha says. "It's just that... we don't always have dinner together. We don't go to the movie tonight together. Our time is different. Sometimes it's early in the morning. Sometimes it's after prayers, late at night. I just don't have those kinds of expectations that every day he'll be at the table at 6 each night."
And now the imam is bolting from the table.
Supporting Families, Providing Guidance
The imam has two appointments at 6 p.m. back at the mosque. The first woman, who works at the county jail, arrives and sits down quietly on the couch. She needs money for rent. He calls the mosque's finance officer, and tells him he has $100 "liquid cash," and wants to give it to her. Just then, the phone clicks and he's speaking Arabic.
"Hello, sister, how are you?" Lamptey asks. The woman has called Lamptey for marriage counseling. Her husband has left the state and she wants the imam to talk him home.
Lamptey arranges a time to talk with the husband, then switches back to his finance officer. This moment captures his day: standing in the middle of his office, a phone to each ear, negotiating problems of the checkbook and the heart.
The first woman leaves with an appointment to pick up money the next morning. Lamptey slumps down in his red leather chair. He shows me a log of his appointments — with parents worried about their children, couples whose marriages are in distress, sick relatives, people broke or lonely or feeling at sea in an unfamiliar land. Every day has a list of people to be squeezed in between the five daily prayers.
"And sometimes, by the end of the day, the fatigue in which you find yourself is bigger than running 40 miles. You feel it from within you, in your mind," Lamptey says.
When asked why he works so tirelessly, Lamptey offers numerous reasons.
"I tie people in marriages that make them very happy the rest of their lives," Lamptey says, laughing. "I negotiate settlements between people. I sit down with people one on one, and hear personal, deep issues which they can't speak to anyone. And they have the trust that when they're speaking to me, they're speaking to God."
An hour later, at 7:30 p.m., the day's final conversation with God begins. Lamptey calls the faithful; several dozen arrive. They pray, and then the imam preaches another hourlong sermon. By now, it's 9:30 at night, but he drops to his knees and prays silently for 10, 15 minutes. It is, he says, the best time of day to pray. Except, of course, for the morning prayer, which will begin at 5:45 a.m. tomorrow.