'We Own the Night'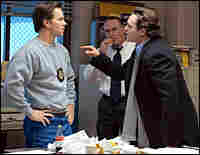 Director: James Gray
Genre: Crime/Drama
Running Time: 117 minutes
Brooklyn brothers Bobby (Joaquin Phoenix) and Joseph (Mark Wahlberg) Grusinsky are reasonably comfortable being on opposite sides of the law.
Bobby runs a nightclub where drug deals go down about as frequently as mojitos; Joseph followed their dad (Robert Duvall) into law enforcement. Their paths don't cross much until Joseph is made head of the drug enforcement division, and starts going after a couple of the Russian mobsters who frequent Bobby's bar.
A conventional but smartly acted policier from James (The Yards) Gray, the film chronicles a black sheep's return to the fold. It's not surprising, but it's engaging enough that most patrons will likely cut the director some slack for the out-of-period details and convoluted plot contrivances that make the film seem at once sloppy and too neat.
Joaquin Phoenix Shines in 'We Own the Night'
We Own the Night is a crime drama starring Joaquin Phoenix and Mark Wahlberg. They play two brothers — one a cop, the other a nightclub owner — who find themselves on opposite sides of the law. James Gray directed this thriller.