An Adoption Success Story
A 12-Year-Old Foster Child Finds a Mother in Virginia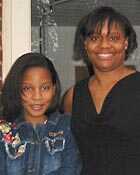 There have been several stories in the media recently about adoptions gone bad. But there are many more stories, mostly never told, of adoptions that change lives for the better. The Saturday before Thanksgiving is Adoption Day in about 120 communities across the nation -- NPR's Ari Shapiro reports on one success story that united a foster child with a loving mother.
Stephanie Jones and 12-year-old Lydia Estelle Jones recently became mother and daughter in a legal ceremony. But for both of them, the real adoption ceremony took place at the Mount Calvary Baptist Church in northern Virginia. Jones says the legal paperwork is important, but the church ceremony is what really counts.
"This is the most important day for her and I, that we do it in front of God and our family, our church family," says new mother Stephanie Jones.
Like many of the more than 3,000 children whose adoptions are expected to be finalized on Adoption Day, Lydia has been through a lot to reach this point. Before moving in with Stephanie last year, Lydia lived with a handful of foster families -- the most recent one, for five years.
Before Lydia was adopted, she was among 100,000 children in America waiting a new family. Case workers couldn't understand why Lydia wasn't adopted earlier -- she's bright, a good student, and beautiful. "Stephanie says says she knows why Lydia wasn't adopted earlier," Shapiro says. "Lydia was waiting, for her."