UAW Deals with Chrysler, GM Set Stage for Ford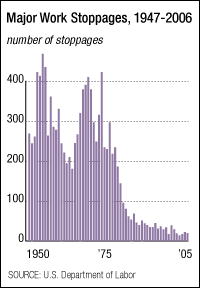 Now that the United Auto Workers union has reached a tentative deal on a new contract with Chrysler, ending a six-hour strike, the talks move on to Ford — the weakest among the so-called Big Three U.S. automakers. These firms are trying to cut their labor costs in order to compete more effectively against foreign rivals. The automakers, and the unions, face great uncertainty in coming years. Here is a look at the issues—and what's at stake.
Did both sides get what they wanted from these recent negotiations?
Mostly, yes. Chrysler got lower labor costs, especially when it comes to newly hired workers. The union won some guarantees of job security, though not as extensive as what the union got from GM.
The Chrysler strike only lasted six hours. The GM strike wasn't much longer—only two days. Why are these strikes so short?
Because neither side—the union or the automaker—can afford a protracted strike. A long strike—more than a week or two—would cripple the union. Its "war chest"—the money it has on hand to pay striking workers — is a fraction of what it was in years past, due to dwindling membership. The automakers, meanwhile, have lost ground to foreign competitors and don't have the coffers needed to endure a long strike. That's why some analysts are calling these brief work stoppages "Hollywood strikes"— more show than substance.
How significant is the fact that the union has agreed to a two-tiered wage structure?
Very. Workers in other industries have already swallowed these kinds of concessions, albeit reluctantly. The UAW had hoped to avoid such a fate. Now that it has agreed to pay newly hired workers less, "the union runs the risk of becoming a retirement club," says Jefferson Cowie, a professor of labor studies at Cornell University. "Once the older generation retires, it becomes a whole new ball game."
Chrysler is now privately owned. How did that fact affect the negotiations?
Some analysts believe that Chrysler, which Germany's Daimler sold to the private firm Cerberus in May, took a tougher bargaining position than it might have if it were still a publicly traded company, since it is less concerned with the public relations fallout from a strike. "When you don't have a bunch of nervous shareholders looking over your shoulder, you're going to be a little tougher in negotiations," says David Healy, an analyst with Burnham Securities.
Next up are the UAW negotiations with Ford. Are the stakes high in those talks?
Absolutely. The principle of "pattern bargaining" still holds. That's where the negotiations with one automaker set the pattern for future talks. In this case, General Motors and Chrysler have both struck deals with the union in which they have given promises of job security in exchange for lower wages (for newly hired workers.) But the union has shown a willingness to hold short strikes to press the automakers, and Ford is in no position to be pressed. Among the Big Three, Ford is in the worst financial shape. It lost $12.6 billion last year. A strike, even a relatively short one, could put Ford—and the union—in peril.
Now that Chrysler and General Motors have agreed to new contracts with the union, are they in a better position to compete against their foreign rivals?
Yes, but only up to a point. Chrysler and GM will now have lower overall labor costs, making them more competitive with "foreign transplants"—Japanese and European automakers who manufacture their cars in the U.S. These companies have younger, non-unionized work forces, so their labor costs tend to be lower than that of the Big Three. Of course, cheaper labor costs alone will not reverse Detroit's fortunes; U.S. automakers also need to improve the quality of their products and their image among consumers. But "these new contracts will certainly help them compete," says analyst Healy.