Eric Clapton Looks Back at His Blues Roots
Clapton's Early Influences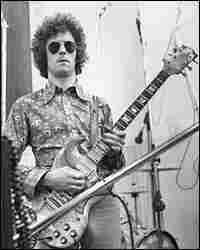 Michael Ochs Archives/Getty Images
Excerpt: 'Clapton'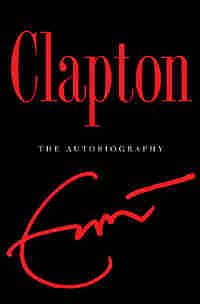 In this excerpt, Eric Clapton writes about his first electric guitar, which he got as a teenager.
The electric guitar I chose was one I had had my eye on in the window of Bell's, where we had got the Hoyer. It was the same guitar I had seen Alexis Korner playing, a double-cutaway semi-acoustic Kay, which at the time was a quite advanced instrument, although essentially, as I later learned, it was still only a copy of the best guitar of the day, the Gibson ES-335. It was cut away on both sides of the neck to allow easy access up the neck to the higher frets. You could play it acoustically, or plug it in and play electric. The Gibson would have cost over a hundred pounds then I think, well beyond our reach, while the Kay cost only ten pounds, but still seemed quite exotic. It captured my heart. The only thing that wasn't quite right with it was the color. Though advertised as Sunburst, which would have been a golden orange going to dark red at the edges, it was more yellowy, going to a sort of pink, so as soon as I got it home, I covered it with black Fablon.
Much as I loved this guitar, I soon found out that it wasn't that good. It was just as hard to play as the Hoyer, because again, the strings were too high off the fingerboard, and, because there was no truss rod, the neck was weak. So after a few months' hard playing, it began to bow, something I had to adapt to, not having a second instrument. Something more profound also happened when I got this guitar. As soon as I got it, I suddenly didn't want it anymore. This phenomenon was to rear its head throughout my life and cause many difficulties.
We hadn't bought an amplifier, so I could only play it acoustically and fantasize about what it would sound like, but it didn't matter. I was teaching myself new stuff all the time. Most of the time I was trying to play like Chuck Berry or Jimmy Reed, electric stuff, then I sort of worked backward into country blues. This was instigated by Clive, when out of the blue he gave me an album to listen to call King of the Delta Blues Singers, a collection of seventeen songs recorded by bluesman Robert Johnson in the 1930s. I read in the sleeve notes that when Johnson was auditioning for the sessions in a hotel room in San Antonio, he played facing the corner of the room because he was so shy. Having been paralyzed with shyness as a kid, I immediately identified with this.
At first the music almost repelled me, it was so intense, and this man made no attempt to sugarcoat what he was trying to say, or play. It was hard-core, more than anything I had ever heard. After a few listenings I realized that, on some level, I had found the master, and that following this man's example would be my life work. I was totally spellbound by the beauty and eloquence of songs like "Kindhearted Woman," while the raw pain expressed in "Hellhound on My Trail" seemed to echo things I had always felt.
I tried to copy Johnson, but his style of simultaneously playing a disjointed bass line on the low strings, rhythm on the middle strings, and lead on the treble strings while singing at the same time was impossible to even imagine. I put his album to one side for a while and began listening again to other players, trying to form a style. I knew I could never reach the standards of the original guys, but I thought that if I kept trying, something would evolve. It was just a question of time and faith. I began to play things I had heard on the record, but to add my own touches. I would take the bits that I could copy from a combination of the electric blues players I liked, like John Lee Hooker, Muddy Waters, and Chuck Berry, and the acoustic players like Big Bill Broonzy, and amalgamate them into one, trying to find a phraseology that would encompass all these different artists. It was an extremely ambitious undertaking, but I was in no hurry and was convinced I was on the right track, and that eventually it would come.
Excerpted from Clapton by Eric Clapton Copyright (c) 2007 by E.C. Music Limited. Reprinted by permission of Broadway Books, a division of the Doubleday Broadway Publishing Group of Random House, Inc.
Related NPR Stories
Web Resources