From the Top Revisits Memorable Young Musicians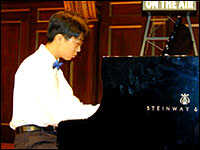 On this week's From the Top, host Christopher O'Riley revisits performances by some of the outstanding teen musicians from past shows, including a brilliant thirteen-year-old pianist who's in medical school, and four trombone students who slide into an ear-catching contemporary work.
Thirteen-year-old pianist Sho Yano is already in his second year of medical school, where he loves taking exams. "Tests are like recitals," Sho says. "They give me the opportunity to show what I've learned." He performs two pieces from Schumann's Fantasy Pieces.
Nathan Bello calls himself "sort of a musical archeologist." From his collection of 4000 vintage piano rolls, the 18-year-old pianist plays his own transcription of "The Enchanted Nymph," by Theodor Leschetizky.
When one trombone just will not do, there's The Bone Rangers--Kevin Dumbrowski, Jonathan Laxton, Sean Tripp, and Matthew Wolford--a quartet of trombone students at Chicago's Merit School of Music, who perform Walter Ross's brassy Trombone Quartet.
Trumpeter Alphonso Horne, 17, has a penchant for jazz, but demonstrates his considerable classical chops by playing a Rondo by Hummel, with host Christopher O'Riley at the piano. O'Riley also accompanies 16-year-old cellist Natalie Helm in Faure's "After a Dream," and teams up with 13-year-old violinist Stella Chen in her performance of "Tambourin Chinois" by Fritz Kreisler.