Sting Tops List of Worst Lyricists
Sting Tops List of Worst Lyricists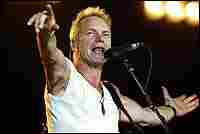 Cesar Rangel/AFP/Getty Images
This month Blender has released its list of the 40 worst lyricists in rock. Sting leads the pack, but not far behind are the likes of Carly Simon and Kevin Federline.
Blender senior critic Jon Dolan says that Sting writes as though he were trying to signal that he's smart, dropping references to Nabokov and Mephistopheles — not to mention scylla and charybidis.
"He has the Wikipedia songs," says Dolan. "He has the Google Alerts songs. He has the songs where only he can understand it."
Host Luke Burbank has one objection to Sting's win, and it's that Blender gave him the award without mentioning "Fields of Gold."
That ballad includes the lines: "So she took her love/For to gaze awhile/Upon the fields of barley/In his arms she fell as her hair came down/Among the fields of gold."
If you think you can help Sting with that one, take the Bryant Park challenge, "Can This Lyric Be Saved?"