Chunk of Famed Meteorite Goes to Auction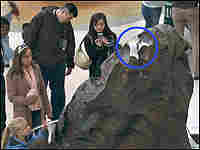 At the Rose Center for Earth and Space in New York City, the museum's showpiece meteorite is conspicuously bald on top.
The bald spot has been on the Willamette Meteorite since 1998, when curators at the American Museum of Natural History removed a 28-pound chunk from the 15 1/2-ton boulder and gave it to collector Darryl Pitt in exchange for a piece of the planet Mars. Pitt is the owner of the Macovich Collection of Meteorites — the largest private collection of aesthetic iron meteorites.
This weekend, in a rare auction, Pitt's chunk will be sold by the international auction house Bonhams. But that slice of the Willamette Meteorite — estimated to be worth up to $1.3 million — represents just a sliver of the rock's controversial past.
The meteorite was discovered in Oregon's Willamette Valley in 1902; the valley's indigenous Clackamas Indians claimed it as a sacred object. But a local man took the meteorite and sold it to a private collector. The collector donated it to the American Museum of Natural History, where it has remained for 99 years.
The Clackamas Indians demanded that the meteorite be returned to them. Eventually they came to an agreement with the museum to keep it in New York. When the museum's Rose Center opened in 2000, the Willamette Meteorite was a central attraction.
Since his acquisition of the Willamette chunk, Pitt has cut off other slivers and sold them. Pitt was jazz musician Michael Brecker's longtime manager and the executive producer of Brecker's last record before he died in January.
Pitt tells Liane Hansen about the history of the Willamette Meteorite, and why he's selling his portion of it.