StoryCorps Griot: First Day at School
StoryCorps Griot: First Day at School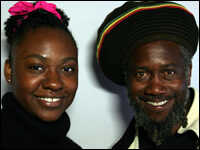 In the fall of 1965, Mweupe Mfalme Nguni was about to enter third grade. As part of voluntary integration, Nguni's parents enrolled their 9-year-old son in an all-white elementary school in Malvern, Ark.
Nguni's parents were involved in the Civil Rights Movement in their small town. His father, H.A. Bates, was a local minister. His mother, Mary Bates, was part of integrating the movie theater in Malvern.
Nguni told his story at a StoryCorps Griot booth in Oakland, Calif. StoryCorps is on the way to Memphis.
All the Griot Initiative recordings are archived at the Library of Congress. A copy of each interview will also go to the National Museum of African American History and Culture in Washington, D.C.
This segment was produced by Selly Thiam. Senior Producer for StoryCorps is Michael Garofalo.