Is Hillary Clinton Electable?
William Thomas Cain/Getty Images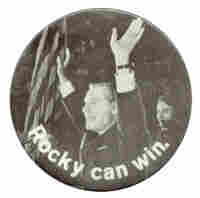 It's a question that Democratic voters have been asking for a while now, a question that Sen. Chris Dodd (D-CT) seemed pained to raise during Tuesday night's candidate debate in Philadelphia.
After stating his view that "electability is a very critical issue," and that "we need to have a Democrat in the White House come Jan. 20, 2009," Dodd added, "Whether it's fair or not fair, the fact of the matter is that my colleague from New York, Sen. Clinton, there are 50 percent of the American public that say they're not going to vote for her. ... I don't necessarily like it, but those are the facts. We as a party certainly have to take that into consideration." For good measure, he then went on to say, "We need to elect a Democrat — a Democrat that's electable and a Democrat that can bring the country together." In other words: Not Hillary Clinton.
In Clinton's thus-far charmed and seemingly unimpeded advance to the Democratic nomination, the electability question was always out there. True, in debate after debate, she was supremely prepared on all of the issues and would routinely outwork and outthink her rivals, often leaving the stage completely untouched. But invariably the next day the questions would begin. In an election where everything seems to be pointed in the Democrats' direction, people would wonder whether she was too polarizing —whether despite the war, despite President Bush's dismal numbers, the election would be about her. And if that were the case, could she survive a Republican assault that is sure to come? Implied in the questions was concern that maybe she was not the one.
These questions are not trivial. One of the more interesting messages I received in Iowa just prior to the 2004 Democratic caucuses — at a time when I still thought Howard Dean was going to triumph — was the fact that voters thought more with their heads than with their hearts. Many voted for John Kerry, they said, because he was the one who would defeat President Bush — not the mercurial and sometimes intemperate Dean. It was a practicality Democrats completely ignored in 1972 when they let their anti-war passion lead them to nominate George McGovern, who promptly lost 49 out of 50 states to President Richard Nixon that year. Dean may have spoken these Democrats' language, but the name of the game, to them, was winning. And Kerry was seen as the one who could accomplish that.
I'm not convinced that Clinton's uneven performance in Tuesday's debate has jeopardized her chances for the nomination. I'm not even convinced that it made much of a difference. Certainly, Hillary Clinton is not Howard Dean. But if questions about her electability continue to stir Democratic voters, this may be a more unpredictable nominating process than we've thus far been led to believe.
Before I take questions from you, a trivia question from me.
We know that in 2004, Boston hosted both the World Series and the Democratic national convention. In case you hadn't heard, the Red Sox won but Dem nominee John Kerry lost.
Question: When was the last time a city won the World Series AND hosted a convention where the nominee was elected within a year of each other? (Answer below.)
Now your questions:
Q: On Election Day 2008, Hillary Clinton will be 61 years old. Who was the last Democratic presidential nominee that old? – Harvey Hudson, Eden Prairie, Minn.
A: The last Democratic nominee that old was Harry Truman, who was 63 when he was elected to a full term in 1948; he was just shy of 61 years old when he ascended to the presidency in 1945 following the death of President Franklin Roosevelt.
Q: So, is Ron Paul the Colorado Rockies of the 2008 election? He is on a roll. Please give more time to the lesser-known candidates. I think that Mike Huckabee, Dennis Kucinich and Ron Paul are really the three who most Americans would pick if the media gave everyone equal time. – Dave Henning, Chandler, Ariz.
A: OK, in fairness, you sent this question at a time when the Rockies had won 21 out of 22 games, en route to marching to the National League pennant. This was before they were swept by that team from New England. So I assume your comparing Congressman Paul to the Rockies was a compliment. All I can say is that Paul continues to astound. His support on the Internet remains intense, and his $5 million raised in the last quarter was certainly an eye-opener. I'm still waiting for him to register in any state or national poll, however.
One who may be ready to surprise some people is Huckabee. Some Iowa polls show him in second or third place — not bad for someone who hasn't raised much money. Peg Oetjen of Elva, Estonia, also finds Huckabee "impressive," but has this to say about his inevitable collapse: "It's his name. Can you really imagine 'President Huckabee' – especially from a Southern state?" I don't know about that.
But a more effective case against Huckabee was made by The Wall Street Journal's John Fund. In a recent column, Fund argued that the former Arkansas governor "is not the 'consistent conservative' he now claims to be," quoting conservative leaders nationally and in Arkansas who remain disappointed with his nearly 11 years as his state's chief executive. It's worth reading.
Q: I see that there are only six Republican members of the House from New York. Is that an all-time low? – Ralph King, Yonkers, N.Y.
A: Yes, and that number could become even smaller if the Democrats win control of the state Senate in next year's election, giving them complete control of state government and the ability to redraw some of the six Republicans into oblivion. Democrats picked up three GOP seats in last year's election (ousting Sue Kelly and John Sweeney and winning Sherwood Boehlert's open seat), one the year before that (Jack Quinn's open seat), one in 2002 (defeating freshman Felix Grucci) and one in 2000 (taking Senate candidate Rick Lazio's seat).
Of course, there are also fewer congressional districts in New York than ever before: 29. In 1981, there were 39 districts in the state (17 Republicans). In 1957, there were 43 districts (26 Republicans). But six is a far cry from the golden days of the New York GOP.
Here's another way of looking how far Empire State Republicans have fallen. Last year's elections marked the first time the Democrats took every statewide office since 1938.
HOW'S BAYOU: Various reactions to Gov.-elect Bobby Jindal's (R) victory in Louisiana (see last week's column). Suresh Chitnis of Alameda, Calif., writes, "As an Indian-American, I am certainly proud of Mr. Jindal's achievements. However, he did this by converting from Hinduism to Catholicism, which in my opinion is forgetting your roots to achieve the goal. His actions show a kind of shallowness in spite of his fine education. Such people cannot be trusted to be strong leaders if they will shift with the political wind."
Morel Hughey of Columbus, Ga., sees an asterisk in Jindal's victory. "While Jindal's win has something to do, in part, with everyone's disgust with Gov. Kathleen Blanco (D), it also has to do with the roughly 500,000 African-Americans displaced in the aftermath of Hurricane Katrina. I don't think Jindal would have won otherwise."
In a similar vein, but coming from a different point of view, is Sue Kirsch of Atlanta: "Jindal's win is just the beginning. Democrats may be doing well around the country, but no longer in Louisiana (where I used to live). The election was a total repudiation of Gov. Blanco, and it will continue next year when Mary Landrieu (D) loses her Senate seat."
Postscript: Last week's column also had a feature about the nation's first Indian-American congressman, Dalip Saund. It just so happens that the House will unveil the first congressional portrait of him on Nov. 7, and there will be a reception that day at 5:30 p.m. in the Rayburn Room of the Capitol.
Regarding the upcoming San Francisco mayoral election, several readers pointed out that Mayor Gavin Newsom was already divorced when he was caught having an affair with the wife of his then-campaign manager. And Philip Booth of Bellaire, Texas, writes to tell us that among the challengers to Houston Mayor Bill White is (really and truly) the "Outlaw Josey Wales III."
And a handful of readers strongly disagreed with my analysis of next week's election in Pittsburgh pitting Mayor Luke Ravenstahl (D) against GOP challenger Mark DeSantis. Most of the e-mail agreed that Ravenstahl wins; this is, after all, Pittsburgh, a city that hasn't had a Republican mayor since 1934 and hasn't had a close mayoral election since the 1940s. But all insisted that this is not the slam-dunk that I portrayed.
Michael Guss of Hagerstown, Md., who has worked on Pittsburgh campaigns over the years, writes, "Ravenstahl has managed to land in ethical hot water over and over and over again. He looked the other way and promoted police officers with histories of domestic violence in their past. He's alienated key constituencies (women, African Americans and labor). Don't forget, Ravenstahl was never elected in his own right. He ascended to the Council presidency as a compromise candidate, and then became mayor when Bob O'Connor died eight months into his term. He has alienated several key parts of O'Connor's coalition. And if there is the type of situation where a Democrat could lose the mayoralty of Pittsburgh, this is it."
Similarly, Chris Schultz of Pittsburgh, a self-described Democrat who supports DeSantis, writes, "I am not sure where you are getting your information (the mayor's office?), but this is going to be a tight race, and DeSantis has a chance for the upset."
ON THE CALENDAR:
Nov. 2 – New Hampshire primary filing deadline.
Nov. 6 – ELECTION DAY.
Nov. 10 – Iowa Democratic Party's Jefferson Jackson Dinner, Des Moines.
TRIVIA ANSWER: Los Angeles won the World Series in 1959 with the Dodgers and nine months later hosted the Democratic convention that produced John F. Kennedy.
HAPPY HALLOWEEN
A NEW TIME FOR THE TOTN "JUNKIE" SEGMENT: Starting next Wednesday, the "Political Junkie" segment that has been heard on Talk of the Nation, NPR's live call-in program, will (uh, oh) become even longer, moving to 2 p.m. ET. If your local NPR station doesn't carry TOTN, you can still hear it on the Web.
IT'S ALL POLITICS: That's the name of our weekly political podcast. It's a combination of brilliant analysis and sophisticated humor, hosted each week by NPR's Ron Elving and myself. It goes up on the Web site every Thursday and can be heard here. A nice note, this one from Gordon Wanner of Port Townsend, Wash., who has this insane suggestion: "I look forward every week to your show, but how about making it daily!"
But apparently not everyone shares Gordon's views, as this e-mail shows:
"You can include this in your column if you want, but if you do please don't use my name. I am a big fan of Howie Kurtz of The Washington Post, as well as of you. But I was doing some recreational Googling the other day and I came across this in Kurtz's 'Don't Quote Me' online column:
Plainsboro, N.J.: Mr. Kurtz: I was just listening to yesterday's episode of the 'NPR: It's all Politics' podcast. It is hosted by NPR political director Ken Rudin and another guy whose name I don't remember. They were referring to the 'trophy wife' of former Sen. Thomson in a very disrespectful tone. Nothing explicit mind you, but a lot of nudge, nudge, wink, wink, 'say no more' variety. And then referring to Clinton and Obama, one of the podcasters said, 'Which one of them is the male?' or something very close to that. I was shocked. We are talking about the political director for NPR (who seems to think that he is a comedian). Just because it is a podcast, it does not mean you can dispense of all dignity. What do you think of such locker-room banter on podcasts?
Howard Kurtz: Well, I'd be shocked and appalled at the trophy wife reference, except that The New York Times devoted an entire article to whether Jeri Thompson deserved that label."
Do you and Kurtz have a bad history? I can't believe he would post something that included such a blatant attack on you. I think you're fantastic. There was no real point in keeping all those negative comments — Kurtz could have easily edited it out. I was really disappointed to see that."
Well, so am I. And, I'm sure, so is that other guy I do the podcast with whose name I don't remember. I don't know why Kurtz needed to run that question. Thanks (I think) for sending it.
******* Don't Forget: If you are sending in a question to be used in this column, please don't forget to include your city and state. *********
This day in political history: South Vietnamese President Ngo Dinh Diem is overthrown and murdered in a military coup tacitly backed the U.S. (Nov. 1, 1963).
Got a question? Ask Ken Rudin: politicaljunkie@npr.org