Teddy Thompson Plays Live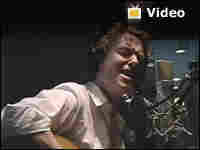 Singer/songwriter Teddy Thompson comes from good stock. He's the son of folk giants Richard and Linda Thompson.
On his recently released album Up Front and Down Low, the younger Thompson ditches the British folk pop for American torch and twan.
"I'm from the backwoods of London," he jokes. "I actually grew up on country music, which may seem strange, but that's what was playing in my house when I was a kid, and that's what I love."
Thompson joins us in the Bryant Park studios for a cover of George Jones' "She Thinks I Still Care" and an original song, "Down Low."
Watch Teddy Thompson Plays Live