Pulled by Ratings, MSNBC Tacks Left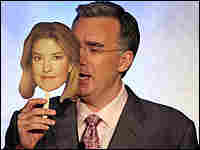 After success with such liberal-leaning programs as Countdown with Keith Olbermann, an executive with MSNBC tells a reporter the network will pursue programs of a similar political bent.
Rosie O'Donnell could be next. MSNBC is now in talks with the liberal comedian.
MSNBC's new approach stands in strong contrast to the one of its rivals CNN and Fox News, which both claim neutrality — regardless of whether they practice it. It also makes a change from 2003 when, in a very different political climate, MSNBC canceled Phil Donahue's show and brought in Michael Savage and Joe Scarborough.
Jeff Bercovici, media blogger for Portfolio, examines the ups and downs of changing course.