Essay: Reflecting on Living History
Essay: Reflecting on Living History
NPR's Nina Totenberg describes recent experiences that made her aware of living history. The first was the unveiling of a federal judge's portrait. The second was program notes at a symphony concert that mentioned her father, Roman Totenberg, as the soloist at the National Symphony Orchestra's first performance of Beethoven's Violin Concerto.
Nina Totenberg: Lessons from My Father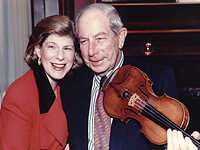 Totenberg Plays
Hear classics from Roman Totenberg's long recording career.
Beethoven: Violin Concerto in D major
Brahms: Violin Concerto--"Allegro"
Bartok: Rhapsody No. 1--"Friss"
My father started teaching when he was 11 years old. His first student was 9. Ever since, he has loved it and learned from it. He once told me that you have to figure out how you do something in order to teach it to someone else. And if your system doesn't work for that someone else, you have to adapt it until it does. Sometimes that means re-fingering an entire concerto for a student to suit that person's physical and technical capabilities.
But my father is more than a violin teacher. He is a financial advisor and consultant. He helps round up scholarship money and finds jobs for his students. He is also a Realtor. He helps them find apartments or live-in situations they can afford. And he is a travel agent, and mother.
A few years ago, when I was visiting, he asked me to drive with him and a student to Boston's north station. When we got there, I realized why. He needed me to car-sit so he could take the student to the train. She didn't speak much English, and he was afraid she would get lost. When he got back to the car, I asked what took so long. "Oh," he said, "I had to get her some sandwiches for the train. It's a long ride to New York, you know."
If you look at the orchestras in the United States, and much of the world today, you would be hard-pressed to find one without a Roman Totenberg student.
About six years ago, I was with my father in Prague at a concert of the Metropolitan Opera Orchestra. After the concert, we went backstage to say hello to maestro James Levine. Suddenly, I hear a scream: "Mr. Totenberg!" and this cute violinist comes running into his arms. It's a scene I have witnessed many times. As my sister Jill said, in a rap song she composed for my father's 90th birthday, what we tell women from 8 to 80 is: "Get in line, get in line, you're number five thousand nine hundred and ninety-nine."
For students who study with Mr. Totenberg today, it's hard to imagine how much musical history he has been a part of. Name a modern composer — Barber, Stravinsky, Copland, Szymanowski, Hindemith, Martinu, Milhaud — he knew them all, worked with them, and even premiered some of their works. The same is true for the great musicians and conductors, from Fritz Kreisler and Artur Rubinstein to Leopold Stokowski and Pierre Monteux.
When I go into my father's study and look at his hundreds of records and reviews and prizes, it is hard to absorb his incredible life — from famines and revolutions in Russia to the life of a child prodigy, winning the Mendelssohn prize in Berlin at age 18, playing for European kings and American presidents. Just looking at his recordings is like time traveling through the 20th century. From the thick, waxen records he made in the 1920s to the 78s of the following era, then 33s and then CDs.
I look at the reviews from his youth, and I gasp and giggle. One reviewer wrote in the early 1930s: "He is a thorough technician, prepared to take up the sword with anyone... He is not the Slavic type, who breaks the strings as an outlet for his feelings; he is a wise man who knows where the limit lies, even when the tempo demands blazing fire."
Of his New York debut, composer and critic Virgil Thompson wrote: "Totenberg can play anything his predecessors could. He is, in fact, more expert than most of them. His is the smoothest bow arm of all and, in consequence, the most evenly sustained legato line."
Nearly six decades later, in 2001, Richard Dyer would review a Totenberg concert in The Boston Globe with this observation: "Totenberg's playing was miraculous... He has kept growing in experience and insight."
To this day, my father is still curious about everything, and never content to practice the pieces he already knows. He is always trying to learn something new, a fearless explorer of everything. His daughters have small fits about this. At the last big recital he gave, several years ago, the entire first half was new material he had learned for the program.
We came home from that concert with armloads of flowers and basking in the glow of stomping, standing ovations. "Well," said Mr. T., with a twinkle in his eye, "you know, when you are very young and can do it, they scream and yell, and when you are very old and can do it, they scream and yell."
"I," he said puckishly, "have been the beneficiary at both ends."