Candidates Learning Rules of the 'Gender Card'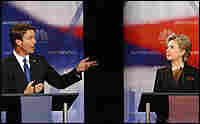 Hillary Clinton played the "gender card" after the boys ganged up on her at the last debate — or so much of the media would have you believe.
We'll trace the genesis of the accusation and ask whether in fact it was the media that dealt this hand.
On our blog, we'll post the campaign video that helped sparked the controversy, a mixtape of Clinton's rivals turning on her.