Grade Schoolers Make 'Mighty Milers'
Grade Schoolers Make 'Mighty Milers'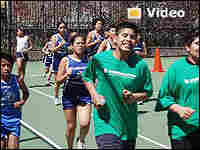 Steve Sloan has taught physical education at P.S. 102 in East Harlem for more than 20 years. Sloan signed his school up for the Mighty Milers program four years ago, and now he spends much of his time pushing his grade-school students through the 26.2 miles of a marathon — at the kid-friendly pace of one mile a day.
"I'm a P.E. teacher from the past, and I believe that running is a part of your program," he says. "This is what you have to do to pass the class." Sloan doesn't believe in approaching kids and asking whether they'd like to run. No, for him, and for his students, running is just part of the deal.
The Mighty Milers program is sponsored citywide by the New York Road Runners Foundation. Sloan takes his kids to a nearby track for their daily mile. He knows what it means to keep going, even against difficult odds. Though he has been legally blind since birth, Sloan fell in love with running. "I ain't never going to get my eyes back. Never get my eyes back," he says. "So I had to find some way to fit in." Sloan grew up in an orphanage and began running on the streets in his Bronx neighborhood.
He still runs at least three miles a day. You eat seven days a week, he says, and that's how many days you need to run.
Questions or comments? See our blog.
Watch video of Steve Sloan and his running students.