Round-Up Rescues Wild Horses in Nevada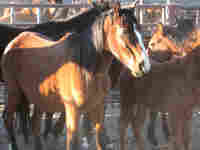 This has been a tough year for wild horses in Nevada.
The high desert east of Reno, Nev., typically receives about 8 inches of rain a year, but a drought has reduced that by a third and wildfires this summer charred thousands of acres. The combination leaves little food for the horses.
In September, about 1,000 horses were gathered from northwest Nevada. They were so sick from malnutrition that 178 died or were euthanized — some of pneumonia, but most from salmonella poisoning.
The Bureau of Land Management says the horses had been eating brush to stay alive and they had difficulty adjusting to hay. Being so weak, they couldn't fight off illness.
The agency had planned to remove horses from these areas in early 2008. But considering the situation, they've started doing that now.
On Tuesday, crews used helicopters to herd dozens of horses into a large funnel-shaped trap with a corral at the end.
Once the horses calmed down, volunteer veterinarian Patty Maxwell looked the animals over.
"In general, they look to be in very good body condition. However some of the mares are looking a bit thin," Maxwell said. Usually mares are the first to show signs of stress when food is scarce, she said.
Round-ups like this are expensive.
"This gather is going to cost a little over $200,000 to capture around 700 horses," said Shawna Richardson, BLM Wild Horse and Burro Specialist. "With the price of fuel and the amount of equipment that they have to use to do this and do it safely, it is costly."
About 250 of the horses will be returned to the range. The mares will be given birth control to keep the population down until the land recovers from drought and fires.
Round-ups like these are also controversial. Environmentalists tend to criticize the BLM for moving horses off public land, but not ranchers' cattle which are allowed to graze on public land for a modest fee.
Wyoming Gov. Dave Freudenthal criticized the BLM for diverting money from horse gathers planned in his state this year to Nevada.
"With much of the western United States suffering from drought, Wyoming should not be forced to bear the burdens caused by budget constraints and indecision at the federal level," Freudenthal wrote in a letter to the BLM.
After the governor made his concerns public, the agency relented and found enough money to do round-ups in both states this year.