'Captain Kangaroo' Dies at 76
Award Winner Bob Keeshan Helped Change Children's Television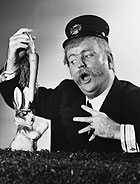 TV's Captain Kangaroo -- who befriended millions of children for more than three decades -- has died.
Bob Keeshan -- the man behind the captain -- was 76.
The show premiered on CBS in 1955, moved to PBS many years later, and stayed on the air until 1984, winning six Emmy awards and three Peabodys.
More than that, it helped change the face of children's television. Keeshan spoke directly into the camera, capturing the full attention of children watching at home. He interacted with few children on screen, using a variety of puppets and adult characters -- from Bunny Rabbit to Mr. Greenjeans -- to emphasize educational material.
NPR's Neda Ulaby offers an appreciation of a TV pioneer.