Norman Mailer, Literary Giant
Norman Mailer, Literary Giant
Jacki Lyden remembers Pulitzer-prize winning novelist Norman Mailer, who died Saturday at the age of 84. We hear excerpts from NPR interviews with Mailer. And we speak with Jimmy Breslin, the long-time newspaper columnist who was Mailer's running-mate when the author ran unsuccessfully for New York mayor in 1969.
JACKI LYDEN, host:
From NPR News, it's ALL THINGS CONSIDERED. I'm Jacki Lyden. Andrea Seabrook is away.
We begin our show today by marking the loss of a giant of American letters. Writer Norman Mailer died Saturday morning in New York City at the age of 84.
Mailer lived pugnaciously and fiercely in outsized ways that left the public quaking. He married six times. He cut a wide swath, not just through women, but the literary world, politics, and the wars of the 20th century. He wrote a lot: 53 books, novels, non-fiction plays and collections. The talent came early. Born in Long Branch, New Jersey, he served in World War II. And in 1948, he published his first novel, "The Naked and the Dead."
Mr. NORMAN MAILER (Writer): I gained a great deal through that fame and I lost a great deal. The key thing is that I had a crisis of identity because when I wrote "The Naked and the Dead," I was just one more young man who was a soldier. Naturally, I considered myself different from all the others, but then so did every other ordinary, young man who was a soldier. But after the success of "The Naked and the Dead," I knew that people would look at me in a different way than they had before.
LYDEN: In January of this year, I interviewed Norman Mailer on the occasion of his last novel. He hadn't published one in a decade. It's called "The Castle in the Forest" and it imagines the childhood life of Adolf Hitler. God and the Devil fight for Hitler's soul in the book, and I asked Mailer if he believed in a creator.
Mr. MAILER: I happen to believe that there is a god - very much there's a god who's a creative god. I don't believe in God as a lawgiver because God does not sit in total control of us. God learns from us as well as enriching us and as well as occasionally perhaps punishing us. But the whole notion of heaven and hell I find absolutely wasteful. The thought that we go through every last thing we go through in order to sit forever in Club Med or a fiery furnace makes no sense to me whatsoever.
LYDEN: In 1969, Norman Mailer ran as a candidate for New York City mayor in a Democratic Party primary. His running mate was Jimmy Breslin, the almost equally famous and equally hard-drinking New York Post columnist. I spoke with Jimmy Breslin today about their campaign.
Mr. JIMMY BRESLIN (Columnist, New York Post): I remember during the political year of 1969, we were - went to Brooklyn College where there was a crowd which could only be called massive. It was huge. And he got up and was speaking about very lofty things including the need for white pupils to be in school with black pupils and vice versa in order for both their minds to benefit and someone stood up in the audience and said, Mr. Mailer, last year, in Queens, we had a lot of snow and it didn't get removed by the sanitation. What would you do if there was a big snow storm in Queens this year? And Mailer looked at him, yanked down from his lofty thoughts, and he said, sir, I'd piss on it.
(Soundbite of laughter)
LYDEN: If not as a candidate, Norman Mailer lived a politically charged life. He wrote about the March on the Pentagon during the Vietnam War in "Armies of the Night," one of two works what won him the Pulitzer Prize. His book, "Miami and the Siege of Chicago," looked at the party conventions of 1968 when police and protesters clashed in the streets of Chicago during the Democratic convention.
Mailer helped found The Village Voice in New York and was a regular and vituperative guest on numerous television talk shows. Though his image is one of a bad boy of letters - women, drink, drugs, fights - his friend Jimmy Breslin remembered him differently.
Mr. BRESLIN: This was a massive worker. I mean, in honest, essentially, he never stopped working. Now and then, we'd drift out into the night and there'd be something that happened, got busted and you'd wind up with headlines and the shrieks. But essentially, he was a working man. When you mention Mailer to me, I think of Von Gogh's work boots. That is…
LYDEN: Von Gogh's work boots?
Mr. BRESLIN: Yes. That's all. I just think of a working man. And he left a massive amount of things to read for his country. And on many of the pages were ideas came out at you. like sparks spitting from a fire. Whether they took it or not, he never worried. It was out there. He had an ego that was - half of it was a show. And so I never introduced him to anybody that didn't think he was a classic gentleman.
LYDEN: Can you tell me a story about a particular moment in which that gentlemanliness really shown through?
Mr. BRESLIN: I don't know. There's so many of them. Once, my friend Joe Quaretrio went to the drug store on Queens Boulevard and we went out the summer fair, I don't know, and I told him, come on, we'll have a drink there. And Mailer was there and he met him and first he said, how you do, Joe Quaretrio, I said. He stopped and he said that means happy death.
LYDEN: Aha.
Mr. BRESLIN: And Quaretrio looked at him. He's the only one he ever meant that knew what his last name meant. Just a little touch; we were just laughing, so…
LYDEN: We wish the same for Mr. Mailer and, I think, for all of us. That would be a good ending.
Mr. BRESLIN: Yes. Yes. Yes. The ending is on the library shelves.
(Soundbite of laughter)
Mr. BRESLIN: And that means it's endless.
LYDEN: Just one last thought. During my interview with Norman Mailer, the famous braggadocio late Norman Mailer, he stopped the interview. I couldn't see him. We were in two separate studios. Hey, he said. Are we alone? Well, I said, kind of. You can tell me whatever you want. He said, how do I sound? Great, I said. Oh, good, he said. I forgot my upper plate this morning and I wasn't sure. Then there was a pause. You can dine out on that, he said, but not too many times.
There's lots more about Norman Mailer on our Web site, npr.org, including the story of his desire to steal Marilyn Monroe from Arthur Miller.
NPR transcripts are created on a rush deadline by Verb8tm, Inc., an NPR contractor, and produced using a proprietary transcription process developed with NPR. This text may not be in its final form and may be updated or revised in the future. Accuracy and availability may vary. The authoritative record of NPR's programming is the audio record.
Norman Mailer, Author and Social Critic, Dies at 84
Norman Mailer, Author and Social Critic, Dies at 84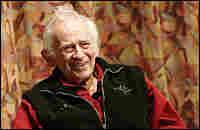 Charley Gallay/Getty Images
Hulton Archive/Getty Images
Mailer In His Own Words
Mailer told the PBS series American Masters that even amid the carnage of World War II, he was always observing, always thinking of how what he was watching might translate to the page.
On 'The Spooky Art' of Writing
Norman Mailer spoke to NPR's Lynn Neary in 2003 about writing both fiction and nonfiction — the process, the emotions involved, and why the effects of marijuana are more conducive to editing than writing.
On Novels as a Dying Breed
At the 2005 National Book Awards ceremony, Mailer said that he felt "the woeful emotions of an old carriage-maker as he watches the disappearance of his trade before the onrush of the automobile."
"Yeats' rude beast has appropriated the marketplace."
On Miller, Monroe and Mailer
"[Arthur] Miller and I knew each other a bit. We'd actually had lived in the same brownstone house, when he was writing Death of a Salesman and I was writing The Naked and the Dead. ... [W]e didn't really take to each other enormously, we'd each walk upstairs afterward thinking, that other guy is never going to amount to much, and both of us were wrong.

But the point is, when they moved to the country, five miles away, I just assumed that there'd be an invitation from Arthur to come over for dinner. And ... for a year, some of my friends were invited, we never were. And I never forgave Arthur for that.

And what was my motivation? I wanted to meet [Marilyn Monroe] so I could steal her. Steal her from her husband. And you know a criminal will never forgive you for preventing them from committing the crime that is really in their heart."
— from PBS's American Masters, courtesy Thirteen/WNET
Breslin on Mailer
In an interview Saturday with NPR's Jacki Lyden, long-time columnist Jimmy Breslin recalls how he came to be Norman Mailer's running mate during the novelist's unsuccessful bid for New York City mayor in 1969.
Breslin on Running for Office with Mailer
Breslin says Mailer was "a massive worker. Essentially he never stopped working."
Breslin on Mailer's Work Habits
Norman Mailer, who burst on the literary scene in 1948 and published his most recent book just last month, died Saturday at the age of 84. Co-founder of the Village Voice, the winner of two Pulitzer Prizes and the National Book Award, he was nonetheless a controversial figure who lived life large.
Indeed, though Mailer has been called one of the greatest writers of his generation, he has also been vilified as an egotistical buffoon who never lived up to the potential he showed in his debut — The Naked and the Dead, a World War II novel based in part on his own experiences as an Army infantryman.
Mailer's second novel, Barbary Shore, was panned by critics. Several publishers rejected his third, Deer Park, and when it finally saw print, it met with mixed reviews. It was a pattern that would continue throughout his career, but as Mailer told Terry Gross in a 1991 Fresh Air interview, he never let his critics get the best of him.
"I am the only major writer in America who has had more bad reviews than good reviews in the course of his writing life," Mailer said. "So that gives me a certain pride, you know. I feel they keep taking their best shot, and they're ... not going to stop me, ya know."
The Writer as Celebrity
Mailer always wanted to be taken seriously as a writer. But his private life often got as much attention as his prose. Married six times, he was jailed briefly in 1960 for stabbing his second wife, Adele Mailer. And his feuds with fellow writers, including William Styron, Truman Capote and Gore Vidal, were infamous. Biographer Mary Dearborn says Mailer was one of the first true celebrity writers.
"This is somebody who aggressively sought out fame," Dearborn says. "He understood the politics of celebrity before anyone else did. The person comparable is Hemingway — who also had celebrity thrust upon him and then came to embrace it."
Mailer always thought of himself as a novelist, but he may have made a more enduring mark as an essayist and journalist. A co-founder of The Village Voice, New York City's fabled alternative newsweekly, he helped invent a new journalistic form: creative nonfiction, which applied the narrative style of the novel to real events.
A political activist during the Vietnam War era, Mailer ran unsuccessfully for mayor of New York in 1969. And he used his own political activism as a source for his books, especially Armies of the Night, about the 1967 March on the Pentagon, and Miami and the Siege of Chicago, about the 1968 political conventions.
Both books were well received — Armies of the Night, in fact, won both the National Book Award and the Pulitzer Prize.
A Cultural Critic, Oft Criticized
Mailer won his second Pulitzer for The Executioners Song, which he described as a "true-life novel" about Gary Gilmore, the first man executed in the U.S. after the reinstitution of the death penalty. Phillip Sipiora, editor of The Mailer Review, says that ultimately Mailer is best understood as a cultural commentator.
"He's always been at the center of a number of cultural storms and issues," Sipiora says. "He engaged the feminist movement in the '60s and '70s. He's been a prolific sports commentator. He's also been a critic of contemporary fiction forms. So in that sense, he's been very influential in a cultural way."
Conflict seemed to be at the core of Mailer's life and his work. Whether writing about war, murder or boxing, he seemed fascinated by the idea of violence But if critics sometimes found this fascination excessive, Mailer never apologized for pursuing life with a vengeance. Everything, he told Fresh Air's Terry Gross, was fodder for his writing.
"You know, if you're just bookish, there's a tendency to get terribly bitter about people who are physical," Mailer said. "My feeling from the beginning always was, if you are going to be a novelist, I've got to be a novelist who can encompass all kinds of experience. Don't ever narrow down the horizons of what you want to write about."