Chechnya's Pro-Moscow President Rebuilds Nation
Chechnya's Pro-Moscow President Rebuilds Nation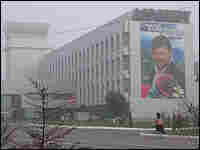 There's a brutal logic to what is happening in Chechnya.
Eight years ago, Vladimir Putin, then prime minister of Russia, launched a war that helped reduce the former separatist province to rubble.
Two years ago, Chechnya's capital, Grozny, was a flattened ruin. Now it has been almost completely rebuilt. The region is being reconstructed under an enthusiastically pro-Moscow administration.
The Reconstruction
New buildings and construction sites surround the main square of central Grozny. One must look hard to find any ruined buildings. As many here say, Grozny looks better than most Russian cities. But it feels like Big Brother is watching you.
Locals credit one man with bringing peace to their region: pro-Moscow Chechen leader Ramzan Kadyrov.
In portraits all over the city and throughout Chechnya, the stocky 31-year-old Kadyrov, with his close-cropped beard and crew-cut, looks down on the people. Eight years ago, Kadyrov was one of the rebels fighting Moscow's rule. But Putin appointed him president of Chechnya earlier this year.
Teacher Rosa Makharbiyeva says that under Kadyrov, life is better than it has ever been.
"Our problems are being solved so quickly, even we don't believe it," Makharbiyeva says. "We have Ramzan to thank for that. I support him completely."
Kadyrov's True Following
Outside Grozny, the countryside is very poor. Armored personnel carriers rumble past and there are men in fatigues with Kalashnikovs everywhere. Southwest of Grozny in a village called Kurchaloi, one of Kadyrov's pet projects has been the rebuilding of a Muslim college on dusty Ramzan Kadyrov Street.
Students take a break after class and spill into the main courtyard next to a giant picture of Kadyrov wearing a Muslim skullcap. Inside, teacher Ruslan Khizriev praises Kadyrov — but when pressed about his real attitude, he changes his tone.
"What can I tell you?" he says, quickly glancing up and down the corridor. "You know what's going on as well as I. All I say is that we have our eyes open and we see everything that's going on."
Back on Grozny's streets, Chechen journalist Heda Saratova stops what she's saying to praise Kadyrov's government — whenever security officials appear within earshot. After they walk away, she says Chechens have little choice but to publicly toe the official line.
"We have to live like this, like it or not. Putin launched his war saying he'd kill us in our outhouses. Tens of thousands of us have been abducted, killed and have disappeared," Saratova says. "And now we're forced to say things we don't believe."
All over Grozny, flags advertise the pro-Kremlin United Russia Party ahead of Russia's parliamentary elections next month — even though the campaign season hasn't officially started. Kadyrov says 100 percent of Chechen voters will support the party.
Cult of Personality
When the Chechen president swaggers onto Grozny's main street dressed in a motorcycle jacket and dark jeans to speak to a group of waiting foreign journalists — he's holding a set of prayer beads.
Kadyrov denies he has built a cult of personality around himself and dismisses accusations that people live in fear of his private militia.
"The people love me," he says. "I've banned putting up my portraits several times, but what am I supposed to do? They want my pictures to be there. Is that what you call a cult of personality?"
Kadyrov also denies that he'll manipulate the elections, saying Chechnya doesn't need opposition parties.
"Why should we create an opposition if the government is going in the right direction and the people support us? We're the people's servants — we do everything they tell us. That's enough of an opposition," Kadyrov says.
Kadyrov has called on Putin to become Russian president for life — a role many believe Kadyrov would like to play himself.