Giving Thanks for a Bounty of All-American Wines
About the Author
Cyrus Musiker is a reporter and anchor at KQED Public Radio in San Francisco. After graduating from college, Musiker worked in the wine business in New York City, Long Island, San Francisco and the Napa Valley for 10 years. He's proud to have been a cellar rat for Peter Franus, Bill Cadman of Tulocay, and the Smiths of Smith-Madrone Winery.
Thanksgiving challenges our wine-matching skills because the typical meal is an incredible mishmash. What goes with turkey and gravy, cranberry sauce, mac 'n' cheese, sweet yams and mashed potatoes, Brussels sprouts and pumpkin pie?
And what do you pour when the guests include Aunt Shirley (who likes her wines fruity and sweet) and your brother-in-law the wine snob (who always brags about his stash of classified growths)?
There is an answer. Put out a lot of different wines — something for everyone and every food. My wife, Andi, and I tried it last week at a dry-run Thanksgiving tasting dinner with friends.
I had one rule: For this most American of holidays, we had to drink American wine, as local as possible. Sure, you're thinking, that's easy for him. He lives in California. But there are good choices for Thanksgiving wine drinkers in nearly every state.
We started with something Andi always loves, something bubbly. I popped a bottle of Piper Sonoma Brut Non-Vintage — a deal for just 10 bucks at my local Safeway. It's not very complex, but it tasted lemony and crisp, and went perfectly with salted cashews and a plate of vegetables and dip.
If I lived in the Southwest, I might have chosen Gruet Brut non-vintage, a great sparkling wine from New Mexico. In the Northeast I'd look to New York's Finger Lakes district for excellent methode champenoise sparklers.
The nice thing about all these American bubblies is they've got enough fruit, and a dash of sweetness, to match dishes ranging from slightly bitter cranberry sauce at one end to sweet yams with marshmallows, spiral ham and pecan pie on the other end.
At the table, we opened a well-chilled Gewurtztraminer (hard to say but easy to drink) to go with butternut squash soup, topped with toasted walnuts and mascarpone. It was a 2006 from Handley Cellars in the Anderson Valley, 100 miles north of San Francisco, and cost me $18.
Now here's where we put the lots-of-different-wine theory to the test. I loved the way the Handley's bit of residual sugar matched the natural sweetness of the squash, and I thought the wine showed a classic profile of lychee, apricots and melon in the nose. But neither my friend Michele ("too Gewurtzy"), nor my wife ("Ewww") liked the Handley.
So we also opened a bottle of Qupe Bien Nacido Cuvee 2006 ($18). The folks at Qupe, on California's central coast, make some quirky blends. This one is a 50-50 mix of ultra-ripe Viognier and more-restrained Chardonnay from the Santa Maria Valley. The combination is dry but luscious in the mouth, with aromas of pear, honeysuckle and apples. The rest of our group thought it was better than the Handley with the squash soup. It was also great with the rest of the meal.
So I kept the Qupe flowing as my friend George began carving the turkey. Then came the sausage stuffing and gravy. Julie served her Brussels sprouts with hazelnuts, and her yams with apple slices (lots of butter and brown sugar). Andi dished out creamy mounds of mashed potatoes, and Julie's husband, Al, opened two more wines.
First was the 2006 Mendocino Chardonnay from Parducci. It featured pleasant aromas and flavors of crisp apples. It's kind of bland, but that simplicity matched pretty well with all those rich dishes. I'm a fan because the grapes are mostly organic, and it's a budget pleaser at about $10 a bottle.
Then I served my favorite wine varietal for turkey, pinot noir. We went back to Anderson Valley for this one, an all-organic 2006 pinot from Copain called L'Automne (autumn) ($24). Despite the name, the wine is anything but pompous. It tasted silky smooth, with aromas of tea, smoke and dark plum fruit.
For dessert, we had a classic pumpkin pie with whipped cream, a cheese plate, spiced pecans, fruit and coffee. The wine we drank should please Midwestern readers: the 2006 Chateau Grand Traverse Late Harvest Riesling, from Michigan's Old Mission Peninsula.
What a bargain. This wine won gold medals at the Los Angeles and San Francisco international wine competitions, and it's just $13 for a full bottle, and better than some half bottles for twice the price. Good acidity provides a solid backbone for a residual sugar of 4.6 percent with aromas of apricot and honey, and a bit of that Riesling diesel (trust me, it's a good thing).
I could have served some roses, a French Beaujolais or a not-too-alcoholic California Zinfandel. All would have been good choices for the meal.
I learned at our tasting that no wine will make a friendship stronger or family relations smoother. But there can be something for both Aunt Shirley, your brother-in-law and other friends and family members with whom you want to give thanks.
Butternut Squash Soup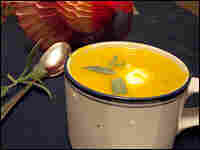 This recipe invites improvisation. Use other squashes, such as acorn or kabochka, try vegetable stock or water instead of chicken stock, and some versions call for the addition of cream and browned butter to enrich the soup. I like this one because it tastes rich without being too high in fat, a welcome introduction to a big Thanksgiving meal.
Makes 4 to 6 servings
1 medium onion, coarsely chopped
2 tablespoons oil (canola or olive)
2 tablespoons chopped fresh sage
1 medium garlic clove, peeled and crushed
1 large butternut squash, chopped into 1-inch cubes, about 3 1/2 cups
3 cups chicken stock
6 tablespoons mascarpone, or crumbled blue cheese
6 tablespoons toasted walnuts, broken into small pieces
Salt and pepper to taste
Saute the onion in a large, deep saute pan or heavy-bottomed pot over low heat for 5 minutes. Add the garlic and a dash of salt, and give it another 5 minutes, until the onions are translucent. Stir occasionally, but don't let them brown.
Add the squash and the chicken stock, cover and cook 15 minutes, until the squash is tender.
While the soup is simmering, toast the walnuts lightly in a pan.
Now process the squash mixture in a food processor or blender until smooth. Adjust seasonings.
The soup should be very thick and rich tasting. If you want it thinner, add more chicken stock, and put it back on the stove to simmer until the flavors marry.
You can make the soup ahead of time, and just heat it up again before serving.
Ladle into small cups or bowls, spoon in the mascarpone and toasted walnuts, and serve.
Julie's Brussels Sprouts with Hazelnuts
My friend Julie Waldman makes this recipe for family and lucky people like me. It's wonderfully simple, but the hazelnuts make it festive for Thanksgiving. You can add butter to the Brussels sprouts when you add the hazelnut oil. But like the squash soup, Julie's recipe is a healthy break in a rich meal.
Makes 6 servings
1 1/2 pounds Brussels sprouts
1/2 to 1 cup hazelnuts, toasted and coarsely chopped
2 to 3 tablespoons hazelnut oil
Salt and pepper to taste
Trim the Brussels sprouts of yellow leaves or brown spots, and cut an x into the base of each one. (That produces more even cooking.)
Bring about 3 cups of salted water to a boil and add the sprouts. The water should just cover them. Boil for 7 to 10 minutes, until a sharp knife just pierces the sprout. Don't overcook.
While the sprouts are cooking, toast the whole hazelnuts in a pan. Don't burn them; that makes them bitter. Chop the nuts coarsely.
Drain the cooked Brussels sprouts, toss them with the hazelnuts and hazelnut oil.