Picture the Lost and Lovely Elliott Smith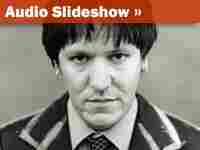 The singer Elliott Smith died a little over four years ago, at the age of 34, from stab wounds to the chest that appear to have been self-inflicted.
Now photographer Autumn De Wilde has published a book of personal, intimate pictures she took of Smith over several years. It's titled simply Elliott Smith.
De Wilde says she took her first photos of Smith the day after they bonded during a night of drinking. "He was uncomfortable. He told me that he didn't like being photographed," she remembers. "But I have to say that I don't think he was consumed with vanity issues." Rather, she says, Smith seemed more worried that he would look as if he was trying too hard.
'From a Basement': Elliott Smith's Posthumous Gift
Songs 'From a Basement'
Memory Lane
Twilight
Past Interviews with Smith
Elliott Smith once said that the point of a song is to "make a feeling." During his short lifetime, the singer-songwriter gained a cult following by doing just that with each of his intimate, melancholy songs.
Almost a year after Smith was found dead -- a presumed suicide -- in his Los Angeles apartment, his sixth solo CD, From a Basement on the Hill, is being released. He was working on the CD at the time of his death, and the difficult task of completing it fell upon Rob Schnapf, who produced Smith's last four CDs, and Joanna Bolme, Smith's former girlfriend.
More than anything else, Bolme and Schnapf say they wanted to make a CD that Smith would have liked, but they are emphatic that this is not the CD Smith would have made -- because he wasn't here. At the same time, they say, From a Basement is all Smith. "One of the funny questions I get asked a lot is 'so what did you have to add?' which to me is ridiculous," Bolme tells NPR's Elizabeth Blair. "I would never presume to add anything. We didn't add anything."
To produce the CD, Bolme and Schnapf scoured Smith's studio, going through all his tapes and brief, cryptic notes. They also sought further insight from others who were close to him. Smith's younger sister, Ashley Welch, shared memories of listening to the new songs with him in the car. She recalls that each time Smith's song "A Passing Feeling" came on, "he would always kind of shush the car… right before this drum fill towards the end… and it just made him laugh every time. And it made me laugh because every time this part would come up, he'd put his hands up, and he'd have this big goofy grin on his face, and then you'd see him air drumming in the car."