JJ Grey and Mofro Plays 'Country Ghetto' : World Cafe JJ Grey and Mofro describes their sound as "southern-fried swamp rock." Their new release, "Country Ghetto," is a nod to the musical roots of their northern Florida home and delivers a fresh take on the area's classic sounds. Hear an interview and in-studio performance, recorded by WXPN.
JJ Grey and Mofro Plays 'Country Ghetto'
Set List
"War"
"Circles"
"By My Side"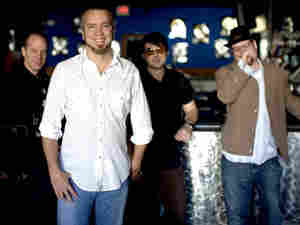 JJ Grey and Mofro is a blues-rock band from Jacksonville, Fla. Back in 1986, Grey and his coworker Daryl Hance worked for an air-conditioning company and cut a demo together under the name of Mofro. The demo ended up attracting major-label attention in the U.K., but an eventual deal collapsed, so a long-time friend and producer founded Fog City Records instead. Returning stateside, JJ Grey & Mofro recorded Blackwater in 2001, then quickly developed a rabid following through hard work and touring.
The band's latest album, Country Ghetto, continues to expand on its sound, inspired by music Grey heard while growing up in the Deep South.