Alaska Woman Preps for 350 Miles of Winter Cycling
Jill Homer, of Juneau, Alaska, is training to ride her bicycle in the Iditarod Trail International — 350 miles of wintry pedaling over tough terrain. The course follows the route used by dog teams and mushers in the famous sledding race.
Her training for the human-powered Iditarod includes midnight rides, part of conditioning her mind and body for five days of pedaling through the wilderness in February. Last year, she rode Alaska's 100-mile Susitna race in 25 hours. In 2007, she shaved more than four hours off her time.
Homer admits that endurance racing is perhaps a mad pursuit, but says she does it for the most sublime of reasons. She'll report on her training for the Iditarod Trail International weekly, right up until the Feb. 24 start. As she writes on the Bryant Park blog, she's not just following a trail. She's following her heart.
"I've been building strength, trying to eat well, and it's time to really start putting in the miles," she says. That means spending two hours a day on the bike — or, as she reports, sometimes two hours a night.
Jill Homer blogs at arcticglass.blogspot.com.
Top 10 Tips for Biking in Snow
Jill Homer of Juneau, Alaska, is training to ride 350 miles in the human-powered Iditarod. The race, which starts in February, follows the same route used by the famous dog sled teams.
People sometimes say, "Wow, riding a bike on snow — that's great. But how does it work?" Snow-biking can be different from regular cycling, so I've compiled a list of 10 tips for riding a bike on snow.
1. Think surface area: If you've ever used snowshoes before, you know that all that mass at the bottom of your feet can mean the difference between coasting atop power or wading knee-deep in it. Snow bikes work they same way. They incorporate wide tires with a flat profile in order to distribute bulk (you) as evenly as possible, allowing for maximum floatation.
2. Fat is the new skinny. As long as there have been bicycles, there have been weight-weenie types trying to shave grams off wheels. Nowadays, it's not uncommon to see a spoke-free wheel sporting tires as thin as razors. But once you slice into snow, skinny tires might as well be razors. Snow-bikers know that fat means float, and have been developing bicycles to accommodate increasingly larger wheels for years. I predict that not too far in the future, someone will build a bicycle frame with room for motocross tires. Look for it.
3. There is no shame in walking. Cyclists hate to admit when they come to a hill or an obstacle they just can't conquer. I have seen cyclists blow out their knees and face-plant over logs just to avoid suffering the indignity of getting off the bike and walking. Snow-bikers have no such pretensions. We know that bikes are not ready-made for snow, and vice versa. If snow is too soft, or too deep, or too wet, we simply step off and amble along until we can ride again. We learn to enjoy it, like walking a dog, but without the constant slobbering.
4. When in doubt, let air out. Often, snowy trails are what we would call "marginally ridable." By letting air out of tires, you can increase the surface area and improve your floatation. Sometimes it means riding on nearly flat tires at a pace a snail wouldn't envy, but, despite what I said in the previous paragraph, it's still better than walking.
5. Learn your snow types. It's been said that Eskimos have dozens of different words of snow. Snow bikers also understand the myriad varieties: powder, sugar, corn, hard-pack, sandy, slushy, and so on. Each type comes with its own challenges. But understanding the nature of the white stuff you are trying to ride atop, you can adjust your riding and wheels to meet the conditions.
6. Don't be disappointed when you fail to set a land-speed record. Snow, like sand, puts up a lot of resistance, and snow bikers are not known for their speed. I have often heard accounts of cyclists who said felt like they were careening down a hill, only to look down and see they hadn't even breached the 10 mph barrier. In snow races, 10 mph is considered fast. Eight mph is average. Six mph is respectable, and four mph isn't uncommon. When asked to describe the nature of the 2006 Iditarod Invitational, which was plagued by cold temperatures and fresh snow, third-place finisher Jeff Oatley said, "It was about as intense as a 2.5 mph race can be."
7. All brakes are not created equal. When contemplating what brakes to put on their bikes, cyclists have all kinds of reasons to choose between disc or rim. But snow bikers, who often find their rims coated in a thick layer of ungrippable ice, have the best reason of all: Rim brakes could mean an icy death by gravity. Go with disc.
8. Re-lubricate and be free. There is nothing that will slow down a snow biker faster than having their hubs freeze up, which is always a possibility when the mercury drops below zero. We have to lube up our moving parts with a special low-temperature grease, sold widely in cold regions like Fairbanks and Minnesota.
9. Stay away from moose tracks. Common injures for road cyclists include road rash and head injuries. Mountain bikers have problems with broken collar bones and bad knees. Alaska snow bikers are always being tripped up by the deep, narrow holes moose leave when they walk through the snow. Avoiding these minefields will help curb post-holing injuries like broken ankles.
10. Stay away from dogs. We talk a lot about fear of angry moose, grumpy bears and rabid wolves, but our most likely animal to have a dangerous encounter with remains the sled dog. They approach so quickly and quietly that we sometimes don't even have time to jump off the trail. A collision can be disastrous — imagine tangled lines, confused canines and a lot of sharp teeth. Add to that an annoyed musher who's likely packing heat, and you stir up the kind of fear that convinces snow-bikers to give those racing puppies a wide berth.
Jill Homer blogs at Up in Alaska.
Snow Cyclist Checks In: 'Now I'm Frightened'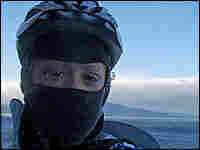 Jill Homer is planning to bike the Iditarod. First, she has a learning curve to master.
Lately, that has included lessons in how to change a flat tire, in the cold and dark, alone.
And how to brace yourself against hurricane-force wind that is tossing you around in your own backyard.
The intrepid Homer admits to feeling a little nervous as she checks in this week.
Into the Wild, on a Bike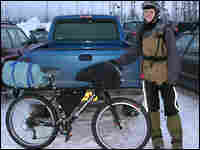 Hi. My name is Jill Homer. I'm a 28-year-old newspaper page designer in Juneau, Alaska. I enjoy hiking, reading and photography. Oh, and I'm planning to race 350 miles of Alaska's Iditarod Trail next February. On my bicycle.
On the surface, it seems like a mad proposition — riding a bicycle hundreds of miles into the remote Alaska wilderness, in the winter no less, fully expecting and maybe even hoping to meet wolves, moose, rotten ice, deep snow, extreme isolation, blizzards that have been known to pin down entire dog teams and temperatures than can approach 50 below. Had you described it to me three years ago, I would have said, yes, that's a mad proposition. That was before I moved to Alaska and took up snow-cycling as a way to stay fit and sane during the long, cold and dark northern winter. I fueled my motivation by resolving to train for a comparatively "short" race, the Susitna 100-mile bike race, also held in February on parts of the Iditarod trail.
It was out there, laboring over soft, snowmobile-packed trails, that I discovered Alaska: the skeletons of flowers perfectly encapsulated in ice; the dark silence of a late-evening snowstorm; the deep gaze of moose working their way across a lunar landscape. That's where I fell in love with Alaska, and that's where my love remains. I feel like there are pieces of myself littered all over the Iditarod Trail, although I have only seen a fraction of it.
The race I have entered this year is the Iditarod Invitational, a human-powered winter race that begins Feb. 24, 2008, in Knik, Alaska. From there, I will attempt to ride, drag and hoist my bicycle over the snowy Iditarod Trail all the way to McGrath, 350 miles away. My boyfriend, Geoff, an accomplished runner, intends to do the same ... but without a bicycle. He is entering the foot division of the race. There is also a ski division. Among the three divisions, there are 50 racers signed up for the event, all "mad" in the conventional sense.
I am really looking forward to this race, and I am also terrified beyond words. This race is the most challenging journey I have ever embarked on, and the preparation is half the adventure. I keep track of my training triumphs and misadventures on my blog, arcticglass.blogspot.com. With a little luck and a lot of preparation, I hope to discover Alaska all over again.
Note: You can follow Jill Homer's training for the Iditarod Trail Invitational on our blog.