Into the Wild, on a Bike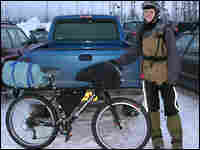 Hi. My name is Jill Homer. I'm a 28-year-old newspaper page designer in Juneau, Alaska. I enjoy hiking, reading and photography. Oh, and I'm planning to race 350 miles of Alaska's Iditarod Trail next February. On my bicycle.
On the surface, it seems like a mad proposition — riding a bicycle hundreds of miles into the remote Alaska wilderness, in the winter no less, fully expecting and maybe even hoping to meet wolves, moose, rotten ice, deep snow, extreme isolation, blizzards that have been known to pin down entire dog teams and temperatures than can approach 50 below. Had you described it to me three years ago, I would have said, yes, that's a mad proposition. That was before I moved to Alaska and took up snow-cycling as a way to stay fit and sane during the long, cold and dark northern winter. I fueled my motivation by resolving to train for a comparatively "short" race, the Susitna 100-mile bike race, also held in February on parts of the Iditarod trail.
It was out there, laboring over soft, snowmobile-packed trails, that I discovered Alaska: the skeletons of flowers perfectly encapsulated in ice; the dark silence of a late-evening snowstorm; the deep gaze of moose working their way across a lunar landscape. That's where I fell in love with Alaska, and that's where my love remains. I feel like there are pieces of myself littered all over the Iditarod Trail, although I have only seen a fraction of it.
The race I have entered this year is the Iditarod Invitational, a human-powered winter race that begins Feb. 24, 2008, in Knik, Alaska. From there, I will attempt to ride, drag and hoist my bicycle over the snowy Iditarod Trail all the way to McGrath, 350 miles away. My boyfriend, Geoff, an accomplished runner, intends to do the same ... but without a bicycle. He is entering the foot division of the race. There is also a ski division. Among the three divisions, there are 50 racers signed up for the event, all "mad" in the conventional sense.
I am really looking forward to this race, and I am also terrified beyond words. This race is the most challenging journey I have ever embarked on, and the preparation is half the adventure. I keep track of my training triumphs and misadventures on my blog, arcticglass.blogspot.com. With a little luck and a lot of preparation, I hope to discover Alaska all over again.
Note: You can follow Jill Homer's training for the Iditarod Trail Invitational on our blog.