Scientists Clone Monkey Embryo, Derive Stem Cells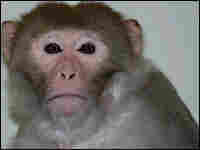 Scientists in Oregon are the first to successfully clone a primate embryo. The research team at Oregon Health & Science University used skin cells from rhesus macaque monkeys to create the cloned embryos. They then extracted embryonic stem cells from the just-created embryos.
The new work is published online in the journal Nature.
In 2004, Korean researchers fraudulently claimed to have used a similar process to clone a human embryo.
Joe Palca, NPR's science correspondent, discusses the new research, which scientists hope may one day be used to create customized stem-cell therapies.
Stem-Cell Researchers Clone Monkey Embryo
Scientists have announced another first in cloning: They have cloned a primate embryo. The researchers in Oregon say they used those cloned monkey embryos to derive embryonic stem cells.
A few years ago, South Korean scientists said they had done the same thing with human cells, but that turned out to be a fraud. The journal that published this new work took the unusual step of having an independent laboratory verify the results.
Researchers hope to one day use such a process in humans to create customized stem-cell therapies for individual patients.