SEC Road Diary: Four Days in Football Country
In Depth
The SEC is marinated in tradition: generations of the same family attend the same school, sing the same fight songs, hate the same opponents. Such rivalries fuel SEC football as much as rooting for your own team. Read a primer on the conference and its culture.
It's the 75th anniversary of the Southeastern Conference, where college football is a way of life.
NPR Sports Editor Uri Berliner joined Sports Correspondent Tom Goldman on a road trip to explore the devotion, excess and football excellence on display in the days leading up to the big game between traditional rivals LSU and Ole Miss.
It was a game of national significance, with LSU No. 1 in the rankings, and the struggling Ole Miss team eager to pull off one of those big upsets that have characterized this college football season. But as Berliner and Goldman learned, there's a lot more to an SEC rivalry than just football.
Read Berliner's road diary:
Tiger Country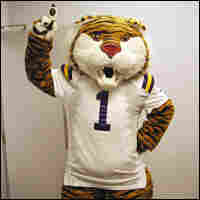 Wed., Nov. 14, 8:03 a.m.
A Wal-Mart in Baton Rouge, La.
An entire section at the front of the store is stocked with LSU gear. LSU doggie beds, LSU serving platters, LSU bowls, umbrellas and caps. The school's colors — purple, gold and white — are everywhere.
I'm at Wal-Mart when the doors open because I packed for autumn in the mid-Atlantic, and it's sticky hot here, even early in the morning. Two presentable short-sleeved shirts: $18.50. Outside, the sky is hazy white and the sun is already beating down. The sign on the front of the IHOP says "Go Tigers." Just down the street, at the Gold Club Cabaret (that's a fancy name for strip club), the sign is the more regionally flavorful "Geaux Tigers." As we head off in the car towardcampus, I realize the theme has endless variations. The sign flashing outside the Walgreens says, "LSU Pet Sweater, $9.99, LSU Mr. Potato Head, $14.99." Oh, the team is big here. On a quiet residential street, a local politician's lawn sign sums up the outlook: "Steve Carter for State Representative, Beat 'Bama."
Talk about taking a safe, uncontroversial position.
'Church of the Tigers'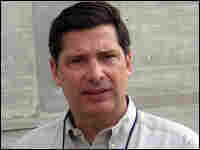 Wed., Nov. 14, 12:30 p.m.
In front of Tiger Stadium
Baton Rouge, La.
"To many people in Louisiana, this place is a temple. It's the mother church," John Ed Bradley says of Tiger Stadium.
He should know. Bradley grew up in nearby Opelousas and played football at LSU in the late '70s.
If it's the mother church, Tiger Stadium, aka Death Valley, is a very raucous one. It's considered one of the loudest places in college football.
Bradley's new book, It Never Rains in Tiger Stadium, is a lyrical memoir of his football-playing days. It's about his teammates, his coaches, his parents and the magnetic power of football in Louisiana.
But it's also about the stadium itself.
"Why is it so loud?" he asks as he stands outside the 92,000-seat colossus of a building. "It's the weight of the sky, the density of the air here. It's really louder than anywhere else. We have to blame the sky."
He's kidding ... I think.
Back when Bradley played, before they added thousands of seats and put in a new scoreboard, students lived in dorm rooms inside the stadium. Now it is office space used by the Athletics Department.
Bradley remembers how students would hang sheets from their windows with messages like "Beat Bama" and "Ole Miss Sucks." One day in 1977, right after Elvis Presley died, Bradley says, someone threw a window open, and you could hear a recording of "Heartbreak Hotel" playing in tribute.
'Go to Hell Ole Miss'
Wed., Nov. 14, 6:04 p.m.
Walk-On's Bistreaux
Baton Rouge, La.
It's easy to get lost in a strange city, but you can't miss this place. Walk-On's has a huge inflatable football player in an LSU uniform on the roof. From a distance in the car, we try to identify the roof ornament. My colleague, Tom Goldman, guesses it might be a beignet, one of those deep-fried, sugary pastries that they serve in New Orleans. Understandable. It's hard not to think about food in Louisiana.
Walk-On's is a sports bar/restaurant started by two former LSU basketball players who made the team by walking on without the benefit of an athletic scholarship. Thus, the name.
LSU football coach Les Miles has a weekly radio program here during the season. Fans decked out in purple start streaming in about an hour before showtime.
Out front, a middle-aged woman in an "Extreme Tailgater" T-shirt eyeballs a purple chopper "Tiger Bike" that's being raffled off to support a charity. A woman running the raffle tries to induce me to buy a $20 ticket. She assures me that Coach Miles will sign the bike.
The patrons stand and cheer when the coach walks in for his show.
Coaches enjoy iconic status when their teams reach No. 1 in the country, but Miles seems low-key and approachable. He bumps knuckles with his co-host and signs caps during a station break. The fans here are too polite to pester Miles about persistent rumors that he'll leave LSU at the end of the year to take the head coaching job at Michigan, where he has strong ties.
The show is part pep rally, part game preview. Miles is doing what coaches do: telling everyone that Ole Miss shouldn't be taken lightly, even though the team is winless in the SEC.
No one has a better perspective on all this than June Guillory of Baton Rouge. She's sitting in an overstuffed purple armchair, a VIP seat she's entitled to enjoy by virtue of holding a winning ticket number. The tickets were distributed a few minutes before showtime. It's the best venue in the house, only a few feet from the coach.
Guillory is a bona fide fan. Her father worked at LSU, and she says she has had the same game seats for 47 years. Guillory is sweet and gracious and grandmotherly. But she's also wearing a big button that says, "Go to Hell Ole Miss."
Just another SEC tradition.
My Partner for a Championship!
Fri., Nov. 16, 10:10 a.m.
The Scruggs Law Firm
Oxford, Miss.
Richard Scruggs is a high-powered trial lawyer who has taken on Big Tobacco, asbestos manufacturers and insurance companies after Hurricane Katrina. He's a serious guy who does serious legal work involving uber-serious sums of money. We're meeting in his office, and he's talking about significant matters of jurisprudence. But I get the sense we're all a bit eager to switch subjects.
"Unfortunately, one of my partners is an LSU alum," Scruggs says. He's smiling now, switching to the razzing mode that comes so naturally to SEC fans.
Scruggs is a major supporter of his alma mater. He figures he's given more than $1 million to support Ole Miss sports. His name is on the school's music building. He'll loan out his private jet when the school wants to fly in a coaching prospect or a hotshot professor. He'll go to all the Ole Miss home games and a few away games, even when the team is struggling – like it is now.
We ask Scruggs what he would give up for an Ole Miss national championship, even an SEC title. Would he give up, say, a partner? "I've given that about two milliseconds of thought and the answer is hell, yes...particularly one from LSU."
But tonight Scruggs and that partner, joined by family and friends — LSU Tigers and Ole Miss Rebels — will gather and enjoy some Coors Light and Amber Abita, a bit of good-natured revelry before the rivalry really gets serious Saturday afternoon.
P.S. We ask Scruggs to explain that "Go to Hell Ole Miss" button that we saw June Guillory wearing in Baton Rouge. He says it's a polite way of saying something worse.
The Ole Miss 'Mic Man'
Fri., Nov. 16, 11:30 a.m.
Scruggs Hall music practice room, University of Mississippi, Oxford, Miss.
In 2003, the University of Mississippi retired its mascot, Colonel Reb, an old man — "a Southern gentleman" — with a droopy white mustache. The official reason: He was outdated. Translation: the colonel evoked Mississippi's Confederate past, and it was time to move on. Colonel Reb has never been replaced; some of the most retro Ole Miss fans are still hoping he'll return one day.
Marcus Guinn tells people that he's not the new mascot. But if you're looking for the individual on the field who fires up the home crowd, it's Guinn. And he could not be more different than Colonel Reb. He's African-American, 6 foot 7 — even taller when he combs out his Afro on game days. That's when you'll find him at the south end of the stadium doing what he calls his "mic man" routine. He plugs in a microphone to lead cheers. He jumps around, talks to kids, rags on opposing players.
Guinn played bass drum in the Ole Miss marching band, and he plays tenor sax in the school's jazz band. But he's known around campus for his "mic man" routine.
"Entertainment is a part of a football game," he says. In recognition, a spirit award scholarship at Ole Miss has been established in Marcus Guinn's name.
The Grove: Tailgating in the Extreme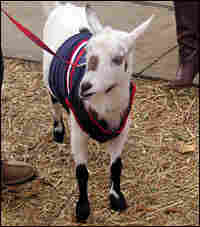 Sat., Nov. 17, morning and early afternoon
The Grove, the University of Mississippi, Oxford, Miss.
Tailgating is an honored and well-practiced ritual at SEC schools. Then there's the Grove at Ole Miss. The Grove is both a place and event, an occasion so steeped in tradition and legend that the word "tailgating" doesn't suffice.
On game days, the nine-acre grove of oak and magnolia trees turns into a huge sea of brightly colored, canopied tents. Under each one, there's a party that comes with a story.
You'll find tents with chandeliers above tables with floral centerpieces, set out by women in pearls and designer dresses. You'll find rowdies blasting Southern rock who've erected shrines to Elvis, a Mississippi native. Hard-core football fans come with satellite dishes and flat-screen TVs. Walk a few minutes and you can hear a jazz band or a Rebel yell. There are people connected through work, but more often through Ole Miss, family or both. The food is abundant, and so are the adult beverages, sipped from plastic cups or giant travel mugs.
The Grove gets started late Friday night, with folks vying for prime tent spots. Early Saturday morning, SUVs and cars packed to the brim inch along the Grove's perimeter, well below the campus speed limit of 18 miles per hour. Here's a hint of how seriously they take football in the SEC: That speed limit? It's in honor of Archie Manning, the beloved Ole Miss quarterback from the 1960s; he wore No. 18.
The Grove faithful come year after year, decade after decade. Linda Sue Bobo of Germantown, Tenn., is situated under a tree in her regular spot. Fifteen years ago, she says, the tree was a seedling. She has a school flag on her table from 1960. One of the corners is a bit ragged. "I assume it was a tight game, and my brother chewed off the edge," she says.
At the Grove, tradition rules, but some of the traditions are a bit off kilter. Walking along a pathway I encounter Lanie, a goat in a cheerleader outfit; she has been to the Grove for every Ole Miss home game for the past three years. Her owner, Melissa Lohrman of Ridgeland, Miss., says Lanie is quite popular. So much so that Lohrman made refrigerator magnets featuring the Ole Miss football schedule and a picture of Lanie wearing the cheerleader outfit and a string of pearls. "They say we're the goat of the SEC, so why not?"
One more Grove tradition: Two hours before kickoff, people abandon their coolers and their finger sandwiches to pack in alongside a brick "Walk of Champions" that cuts through The Grove. There, they cheer on the Ole Miss players and coaches who pass through on their way to the game. Most of the players are black; most of those cheering them on, white.
Game Time Is Party Time (Winning Optional)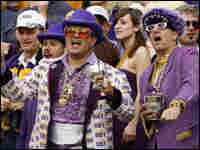 Sat., Nov. 17, moments before the 2:30 p.m. kickoff
Vaught-Hemingway Stadium, the University of Mississippi, Oxford, Miss.
The excitement is building in the student section at the south end of the stadium. "Are you ready?" someone shouts, launching the Ole Miss cheer. "Hell, yes! Damn right!" comes the response from the boys in blue blazers. "Hotty Toddy, gosh almighty, who in the hell are we? Flim flam, Bim Bam. Ole Miss, by damn! Wuuuuuuu!"
Ole Miss gives No. 1-ranked LSU a spirited fight early on, trailing only 14 to 7 at halftime. But as LSU pulls away late in the game, the rousing Ole Miss cheers trail off. And the LSU band gets to strut its stuff, with the tubas thumping "Hold That Tiger."
Down in the depths of the stadium, the LSU players whoop and holler as they head into the visitors' locker room. The No. 1 ranking is secure for another week. They emerge later in purple sweatsuits. A few are limping. One player hobbles along with an ice pack taped to his leg. They grab boxes of Popeyes chicken and sports drinks and head out for the buses. They probably won't spend much time relishing the victory. In his news conference, Coach Les Miles is already talking about the dynamic running attack of Arkansas, LSU's next opponent.
Football is done for the day, but the Grove is still in business. Ole Miss fans spill out of the stadium and return to their tents for more revelry. What's the point in sulking? As one T-shirt on campus puts it, "We may not win 'em all, but we sure know how to throw a party."