StoryCorps Griot: Remembering Mom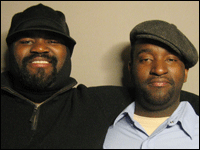 In this week's StoryCorps Griot segment, Gregory and Lloyd Porter remember their mother, Ruth Esther Thompson, who passed away in 1994.
The brothers shared their memories at a booth in New York. Gregory Porter is a jazz musician. Lloyd Porter and his wife own a bakery in Brooklyn called, Bread Stuy.
The StoryCorps Griot booth is currently in Memphis, Tenn. Next stop is Harlem, New York.
All the Griot Initiative recordings are archived at the Library of Congress. A copy of each interview will also go to the National Museum of African American History and Culture in Washington, D.C.
This segment was produced by Michael Garofalo, who is also senior producer of StoryCorps.