A Classical Thanksgiving Harvest
WGUC presents five tasty tunes to enjoy while readying the feast, and preparing for family and friends on Thanksgiving.
1. William Billings
O Praise the Lord of Heaven, for chorus
Boston singing master William Billings published songbooks that were popular during the Revolutionary War. Some of his melodies were adapted by the Continental Army as marching tunes. This one fits the holiday perfectly.
Paul Hillier conducts His Majestie's Clerkes. (from Harmonia Mundi HCX3957048)
2. Aaron Copland
Appalachian Spring, concert suite for full orchestra
A satisfying helping of Americana with Leonard Bernstein conducting music Copland composed for Martha Graham. She also suggested the title, which is based on a Hart Crane poem about a source of water, not a season.
Leonard Bernstein conducts the Los Angeles Philharmonic. (from Sony 46559)
3. Antonio Vivaldi
Concerto for Violin in F major, Op. 8 no 3/RV 293 "L'autunno"
Antonio Vivaldi provided a snapshot of an 18th-century Italian harvest festival in one of his 'Four Seasons.' Vivaldi depicted each season in music with a concerto, and prefaced each with a sonnet. Usually you only hear the music, but this recording features Patrick Stewart reading the sonnet before each movement.
Musica Anima featuring Patrick Stewart and Arnie Roth. (from American Gramophon 801)
4. Jay Ungar & Molly Mason
The Harvest Home Suite: Autumn (Thanksgiving Hymn)
This superb collaboration with violinist Jay Ungar, guitarist-singer Molly Mason and the Nashville Chamber Orchestra evokes the warm feelings and golden light of the harvest season.
Jay Ungar & Molly Mason with the Nashville Chamber Orchestra. (from EMI 56720)
5. Joseph Curiale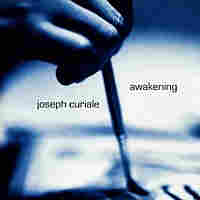 Awakening (Songs of the Earth) for orchestra
Music from American composer Joseph Curiale that kicks up the endorphins with its catchy melody and gorgeous orchestration. Also check out "Prairie Hymn" on his other CD, The Music of Life (Orchard Road 7156).
Joseph Curiale conducts the Royal Philharmonic Orchestra. (from Orchard Road 7157)


Mark Perzel is a 30-year radio veteran and the executive producer at WGUC-FM, Cincinnati's Classical Public Radio.
Cincinnati-based WGUC plays classical music 24 hours a day, reaching out to both classical newcomers and longtime aficionados.
This list was originally published on Nov. 21st, 2007