Which Early State Matters Most?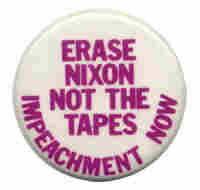 When it comes to Iowa and its role in the 2008 presidential nomination, it's a stark contrast watching the different approaches the two major parties are taking. With Mitt Romney holding clear leads at this stage both in Iowa (Jan. 3) and New Hampshire (Jan. 8), his main Republican rivals seem to be picking and choosing other states down the road to make their stand.
For the Democrats, it's different. And for many, if not most, of the candidates, it's Iowa or bust. Win in Iowa or go home. For all that's been said about Hillary Clinton's national lead in the polls, it's up for grabs in Iowa among Clinton, Barack Obama and John Edwards. And what happens in that state could well have a snowballing effect in the states that follow. If they are to stop Clinton from sewing up the nomination early, or so the story line goes, it's going to have to happen in Iowa.
But if you want to know which state, Iowa or New Hampshire, is a better indicator of who ultimately wins the nomination, there is no easy answer. Both have a history of seeing their winners being denied the nomination. We've pointed out many times that, on the Republican side at least, the winner of the South Carolina primary has always gone on to become the party's nominee. It's not so easy with Iowa or New Hampshire.
For the Republicans, the winner of the New Hampshire primary has gone on to win the nomination all but three times (1964, when it went with Henry Cabot Lodge instead of Barry Goldwater; 1996, when Pat Buchanan won the primary but the nomination went to Bob Dole; and 2000, when John McCain walloped George W. Bush in the first primary). For the Democrats, winning in the Granite State is much less an indicator that the victor will go on to become the nominee. The Dem winner in New Hampshire failed to win the nomination in 1952 and 1956 (both times going with Estes Kefauver instead of Adlai Stevenson), 1968 (Lyndon Johnson won but dropped out), 1972 (Ed Muskie instead of George McGovern), 1984 (Gary Hart over Walter Mondale) and 1992 (Paul Tsongas over Bill Clinton).
In Iowa, GOP voters went awry twice, in 1980 (picking George H.W. Bush over Ronald Reagan) and 1988 (not only did Bob Dole win the caucus, but the eventual nominee, the aforementioned Bush, finished third). The top Democrat in Iowa in 1972 was Ed Muskie, who saw the nomination go to the aforementioned McGovern. Similarly, the winners in 1988 (Dick Gephardt over Michael Dukakis) and '92 (Tom Harkin over Clinton) failed to win the nomination.
Here's a chart of how Republicans and Democrats have fared in the first three major contests and who ultimately won the nomination. I start this chart in 1952, when New Hampshire began its string as the first-in-the-nation primary contest. Years when the party's nomination was uncontested – for example, as in 2004 with George W. Bush – are not included.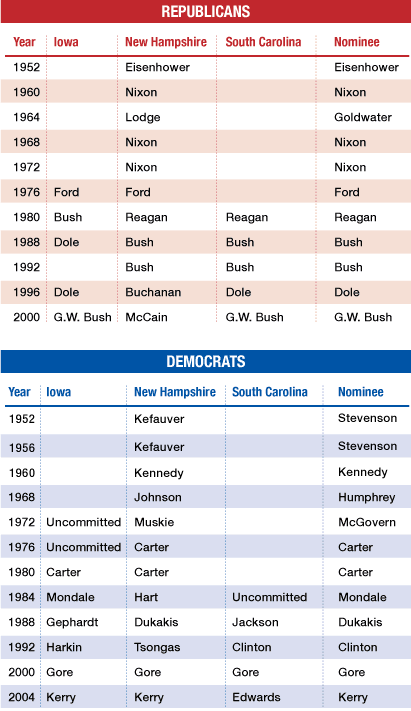 THEY'RE APPAULED: Did we overdo it last week with e-mails about Hillary Clinton? Well, we repeat the favor this week with emails about Ron Paul:
Q: You wrote in last week's column, "Neither Paul nor his followers fall into an easy ideological labeling." While admittedly a few people have been attracted to Paul for oddball reasons, most of his followers are extremely easy to label. They are called "libertarians." You are obviously aware that Paul is philosophically a libertarian while being a member of the Republican Party, so I fail to see why you wouldn't label his followers as such. – Dan Krawiec, Miami
A: I don't doubt that many of Paul's supporters like him for his libertarian views and may indeed be libertarians themselves. At the same time, I've spoken to many who like him solely for his opposition to the war in Iraq. I've been on quite a number of programs where listeners called in and said they hate the war and are ready to switch from the Democratic to the Republican Party so they could vote for Ron Paul. That's why I think his supporters do not easily fall into a single category.
Q: Why would Ron Paul's ability to win a huge portion of the televised debates (all but one that he attended) and straw poll victories (51.2 percent overall first-place victories) not even get mentioned in your column? And why is it that Mike Huckabee's debate performance was seemingly assumed to be better, which contradicts the evidence? – Ian Patureau, Fort Pierce, Fla.
A: I fear my answer might make me sound like part of the media conspiracy that is trying to silence Paul. That's not the case, but I know what's coming. Regardless, here goes: Just because Paul's supporters flood online polls after a debate doesn't mean that he won the debate. While I daresay that Paul has played an important role in several Republican debates, I can't think of a single one where I would say he "won."
And while I do personally think that Huckabee has been more impressive in the debates than Paul, I also happen to think that the gentleman from Texas is going to be around longer in this campaign than the gentleman from Arkansas.
And there's more:
David Lindquist of Overland Park, Kan.: "Ron Paul raised almost $5 million in one day, yet no mainstream news source, including NPR, gives him any coverage. Is there a chance that a candidate could become more popular with voters than with the media, and could it be that voters are ahead of the media on this candidate?"
Scott Reams of Citrus Heights, Calif.: "You write that you are 'waiting for him to register in any state or national poll.' You'll be waiting a long time. Most telephone polls only include registered Republicans who participated in the 2004 primaries. That primary had an anemic 6.6 percent turnout, and included mainly pro-war voters supporting an incumbent president. This is the last group of people who would support Paul." (Similarly, Jeremy Oehlert of Shaker Heights, Ohio)
Leo Mortero of San Diego: "You say you will give Paul time once he 'registers in any state or national poll.' Neither will likely happen unless the mainstream media give the guy more time and coverage. Doesn't the fact that he raised $5 million through small individual donations show just how popular he is? Imagine how much he would take in if the voters actually had the chance to know more about him." (Similarly, Charles Pompilius of Ferndale, Mich.)
David Anderson of San Antonio: "Paul's fundraising numbers cannot be ignored. The mainstream media make all of Paul's supporters out to be anarchists, but there are many Goldwater Republicans who have been waiting for a candidate like Paul for some time."
Gerry Hoffman of Edinboro, Pa.: "I think Paul gives the sizable number of Republicans who have turned against the war an (apparently) honorable candidate to get behind. But I still can't see the GOP as a whole choosing Paul as their nominee. I agree with you that there's a good likelihood that he will bolt from the Republicans and run as a third-party candidate, probably to the detriment of the Republican nominee."
LATE RETURNS: Our Nov. 8 column featured the results of the 2007 off-year elections, but here's some stuff we failed to include. Previn Witana of Riverside, Calif., reminds us that the Democrats won control of the Mississippi state Senate, and Jim Foster of Mechanicsburg, Pa., points out that Luke Ravenstahl, the "boy wonder" mayor of Pittsburgh, was elected to serve only the final two years of the term of his predecessor, Bob O'Connor, who died shortly after he was elected.
PRESIDENTIAL DEBATES, FALL 2008: The Commission on Presidential Debates has released its schedule for the general election. As in previous years, there will be one vice-presidential and three presidential debates. Here's the schedule:
FIRST PREZ DEBATE: Sept. 26 (University of Mississippi in Oxford)
VP DEBATE: Oct. 2 (Washington University in St. Louis)
SECOND PREZ DEBATE: Oct. 7 (Belmont University in Nashville)
THIRD PREZ DEBATE: Oct. 15 (Hofstra University in Hempstead, N.Y.)
All debates will be 90 minutes in length and will start at 9 p.m. ET. The first presidential debate will focus on domestic policy. The second will be a town meeting format. The third will focus on foreign policy. The VP debate will compare Dan Quayle and Jack Kennedy.
As for the criteria for third-party candidates: He or she (1) must be on enough ballots to mathematically be able to reach the required 270 electoral votes to be elected, and (2) must have an average of 15 percent in five selected polls. The last "third" candidate to appear in these debates was Ross Perot in 1992.
ON THE CALENDAR:
Nov. 28 – CNN/YouTube Republican presidential candidate debate, St. Petersburg, Fla.
Dec. 1 – Democratic Brown and Black Forum, North High School, Des Moines, Iowa
Dec. 4– Democratic candidate debate, Des Moines (NPR/Iowa Public Radio)
Dec. 9 – Republican candidate debate, Hispanic issues, University of Miami (Univision)
Dec. 10 – Democratic candidate debate, Los Angeles (CBS)
Dec. 11 – Special congressional elections in VA 01 (to succeed the late Republican Jo Ann Davis) and OH 05 (to succeed the late Republican Paul Gillmor)
Dec. 12 – Republican candidate debate, Iowa (Des Moines Register)
Dec. 13 – Democratic candidate debate, Iowa (Des Moines Register)
Dec. 17 – Democratic candidate debate, Kennedy Library in Boston (CNN/Politico.com)
2 P.M. START FOR THE TOTN "JUNKIE" SEGMENT: Don't forget, the "Political Junkie" segment that has been heard every Wednesday on Talk of the Nation, NPR's live call-in program, has become (uh-oh) even longer, now starting at 2 p.m. ET and running 40 glorious minutes. The "expanded" Junkie segment will continue each week through next year's elections. This week's special guests: Sen. Joe Biden, campaigning in Iowa (and one day after his birthday), and Paul Kirk, co-chairman of the Commission on Presidential Debates. Remember, if your local NPR station doesn't carry TOTN, you can hear the program on the Web.
Two notes arrived this week regarding the "scream" that appears in the segment's open. Danny Lopez of Miami, for one, didn't recognize it. "I'm just wondering who the person yelling is in the opening of the segment, right after the sound byte of John Kerry 'reporting for duty.' My friends and I have been making bets on this." Of course, that yelling is the well-documented "scream" of Howard Dean the night of the 2004 Iowa caucuses.
Sue Fomby of Louisville, Ky., recognized the scream and doesn't like it. "May I respectfully ask why, since it otherwise contains different sound bytes from those in the earlier intro, the new 'Political Junkie' intro STILL includes the infamous 'Dean scream'? Surely you know by now The Scream was kept alive by the media long after CBS proved it was merely a result of the crowd noise-canceling microphones Dean was speaking to after losing the Iowa caucuses. Continuing to use The Scream as the press has seemed intent on doing simply reinforces the idea that the media controls (or tries to control) who wins elections in this country – not a particularly tasteful thought in what is supposed to be a democracy!"
(Response to Sue: I agree with you that the "scream" has long since outlived its usefulness, but I fail to see how this fits into your theory of how the media tries to control who wins elections. After all, Dean's scream came after he went from Iowa front-runner to third-place finisher. In a related thought, are you saying that the media focused endlessly on Al Gore's "sigh" in the 2000 debates because they preferred George W. Bush?)
IT'S ALL POLITICS: That's the name of our weekly political podcast. It's a combination of brilliant analysis and sophisticated humor, hosted each week by NPR's Ron Elving and myself. It goes up on the Web site every Thursday (though this week, because of Thanksgiving, it goes up Wednesday) and can be heard here.
Last week's podcast went up late because Ron and I decided to wait until the Democratic debate in Las Vegas was completed; we recorded the podcast within minutes of the debate's conclusion. Still, it got the "Listener" pretty perturbed. Gary Kent of Phoenix was somewhat distressed, to say the least, when the podcast still wasn't up on the site late Thursday afternoon. "I WANT MY POLITICAL JUNKIE PODCAST," Gary wrote in all caps. "Your use of the word 'junkie' becomes clear. Get us addicted, then withhold the product. Is this some evil plan to raise NPR pledges?"
***** Don't Forget: If you are sending in a question to be used in this column, please include your city and state. *****
This day in political history: The White House announces that 18 minutes of a taped conversation between President Nixon and then-presidential adviser H.R. Haldeman, which was recorded three days after the Watergate break-in in June 1972, had been inexplicably erased (Nov. 21, 1973). It was later "explained" that the erasure might have happened when Rose Mary Woods, Nixon's personal secretary, pushed the wrong button on the tape recorder while she took a phone call.
Happy Thanksgiving to all!
Got a question? Ask Ken Rudin: politicaljunkie@npr.org