At Home in Nashville with Kim Richey
At Home in Nashville with Kim Richey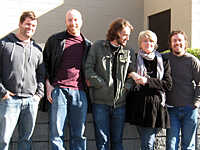 Just the Music
Kim Richey in Studio on All Things Considered - 11/22/2007
Kim Richey in Studio on All Things Considered - 11/22/2007
Web Extra: Exclusive Bonus Cut
Kim Richey in Studio on All Things Considered - 11/22/2007
Recorded by Matt Andrews, Kyle Ford, and NPR's Rob Byers at Sound Emporium Studios in Nashville, Tenn. Mixed by Rob Byers.
For many, Thanksgiving is all about traveling home to be with loved ones, so to mark the holiday, Melissa Block travels to Nashville to hear country-inflected singer-songwriter Kim Richey and her band perform songs about home, travel and love.
Richey, who lives just outside Nashville, recently released her fifth album, Chinese Boxes. She says she got the idea for the album — and its title track — from reading a James Bond novel.
"[The author] was describing one of the characters as 'a nest of Chinese boxes,' and he said the most interesting thing about that was lifting off the lid and finding the next box and getting to the center," Richey says. "And maybe the center wasn't quite as interesting as the trip to the center, but that was what made it all worthwhile, was just trying to get to that place."
In between songs, Richey speaks with Melissa Block about life on tour, her late start in music and the "community" of a sad song. Though Richey's songs are often melancholy, her new album shows off a more upbeat side.
"I'm not ... an unhappy, sad-sacky kind of person," Richey says. "Most songwriters I talk to, it's just, it's hard to pull off a song, you know, where 'oh, I'm really happy and everything's great.' It's kind of like, that's as deep as it goes, you know — you've got nowhere to go after that. But there's a lot more layers, I think, in melancholy, or thoughtful, or those kind of things."
Richey got her start as a full-time musician later than most musicians — she was 37 when she got her first record deal.
"I think when you're older, I had more of a sense of myself, and what I was and wasn't willing to do to get a record deal," she says.
Now, she and her band spend many long hours on the road.
"Sometimes we've had a couple really long drives at night, so to keep us awake and entertained, we'll have a cheese party," Richey says. "I'll buy a couple different kinds of cheeses — like, really nice cheese — and then we'll have cheese and crackers.
"Our whole thing is so 'rock': we do crossword puzzles," she says. "It's just way, far out of control."