Americans Take Off for Thanksgiving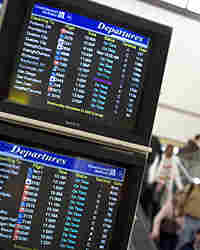 Average gas prices are 86 cents higher this Thanksgiving, but that isn't keeping more than 31 million Americans from piling into their cars and driving to holiday celebrations in near record numbers.
AAA Auto Club predicted 38.7 million Americans would make Thanksgiving pilgrimages of 50 miles or more during the holiday period — including 31.2 million who will drive to their destinations.
"This is the first time AAA Texas has seen gas prices topping more than $3 a gallon in November," said spokeswoman Rose Rougeau. "However, higher gas prices are not expected to discourage Americans from connecting with their loved ones."
Air travel is also expected to be heavy, with 4.2 million people flying during the holiday, according to AAA estimates.
Holiday delays at the nation's airports have become so bad that President Bush took steps to reduce air traffic congestion last week.
Characterizing the holiday traffic period "a season of dread," the president said the Pentagon would open two military air corridors to commercial airliners from Wednesday afternoon through Sunday.
He also said the Department of Transportation will propose doubling the "bump fee" that airlines must pay travelers who buy tickets, then get bumped from a flight.
The penalty now ranges from $200 to $400, depending on how long the passenger has been inconvenienced. The proposed increase would make the fee $400 to $800, but it would not take effect until next summer.
Charles Isdell, Philadelphia's director of aviation, said it's too soon to predict whether the additional air corridors will have an impact on Thanksgiving delays.
"Today will be a good test, and over the weekend," he said. "It's a funny week. We have the busiest days of the year; we also have a couple of the slowest days of the year — Thanksgiving and the day after. The total effect of these airspace enhancements really isn't going to be measurable until after the whole weekend is past."
On Wednesday morning, Isdell said things were running smoothly in Philadelphia, with the waits at security running from five to 10 minutes.
With frequent bad weather during the winter, Philadelphia International Airport is among the East Coast airports known for long delays that leave passengers stranded. This year, Isdell said, the airlines and the airport have taken steps to hurry things along — and to make passengers more comfortable when they are inconvenienced.
"We have a lot of staffing increases for this day and into the weekend, which are the busiest days of the year here," Isdell said. "We have people from the airport who go up and down the lines offering plastic bags and booties for when you have to take your shoes off (at security).
He said the airport is also moving forward with a runway expansion that will give mid-sized aircraft more options during inclement weather, but that project won't be finished until the end of next year.
The airport has also opened a second play area to keep children busy when there are delays and cancellations.
"This 12-day Thanksgiving travel season traditionally is the busiest time of the year for air transportation," said James C. May, president of the Air Transport Association of America.
May said the airlines have taken numerous steps to expedite travel through the airports. They have beefed up their staffs to help with baggage handling and boarding, and they've added self-service machines in secure areas so passengers can get new boarding passes when there are last-minute changes.
ATA officials also said the airlines have increased the connection times during peak travel periods to cut the number of missed flights.
The airline industry estimated 90 percent of seats will be occupied during the holiday travel period.
At Dallas-Fort Worth International Airport in Texas, 23-year-old Kyle Martin waited in a security line early Wednesday morning in hopes of making a flight to Chicago. Martin had confirmed reservations for an afternoon flight, but he decided to try to board an earlier flight on standby.
"If I can get through the line, I can make the flight," he said, but he wasn't optimistic about his chances. "You can see there's already a security line, so I don't think I'll make the first flight."
The weather seemed unlikely to cause any significant delays in most parts of the country. Michael Musher, a National Weather Service meteorologist, said light snow in the Midwest and light rain elsewhere around the country could cause only minor problems.
Rail passengers also braced themselves for heavy traffic and long lines. At New York's Pennsylvania Station, hundreds of travelers headed out of town Tuesday night hoping to beat the rush.
On Wednesday, more than 20 people waited in line for the Amtrak ticket office to open.
Carrie Seligson said she bought her ticket in advance because she feared heavy traffic later Wednesday. She said she also got a better rate by booking a seat on one of the earliest trains to Washington, where she was going to spend the holiday with her family and attend her 20th high school reunion.
"I wasn't sure what I was in for," said Seligson, who arrived at the station an hour before her scheduled departure. "There are too many people later in the day, and the train gets too crowded."
Amtrak said 115,000 people are expected to travel the rail lines on Wednesday alone. Last year, the rail service carried more than 600,000 people to holiday destinations nationwide during a one week period around the holiday.
From NPR reports and The Associated Press