Political Junkie: Iowa's Caucus Countdown
Ken Rudin, NPR's political editor, talks about the upcoming caucuses, and Sen. Joe Biden (D-DE) discusses his campaign in Iowa. Also: a new poll shows Barack Obama leading the pack, and former White House press secretary Scott McClellan authors a "tell-all" book.
Guests:
Ken Rudin, NPR's political editor, writes the Political Junkie" column and has a weekly podcast called "It's All Politics"
Sen. Joseph Biden (D-DE), senator, and Democratic presidential candidate
Paul Kirk, chairman of the Commission on Presidential Debates
Which Early State Matters Most?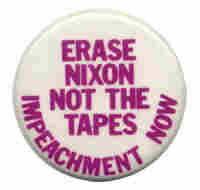 When it comes to Iowa and its role in the 2008 presidential nomination, it's a stark contrast watching the different approaches the two major parties are taking. With Mitt Romney holding clear leads at this stage both in Iowa (Jan. 3) and New Hampshire (Jan. 8), his main Republican rivals seem to be picking and choosing other states down the road to make their stand.
For the Democrats, it's different. And for many, if not most, of the candidates, it's Iowa or bust. Win in Iowa or go home. For all that's been said about Hillary Clinton's national lead in the polls, it's up for grabs in Iowa among Clinton, Barack Obama and John Edwards. And what happens in that state could well have a snowballing effect in the states that follow. If they are to stop Clinton from sewing up the nomination early, or so the story line goes, it's going to have to happen in Iowa.
But if you want to know which state, Iowa or New Hampshire, is a better indicator of who ultimately wins the nomination, there is no easy answer. Both have a history of seeing their winners being denied the nomination. We've pointed out many times that, on the Republican side at least, the winner of the South Carolina primary has always gone on to become the party's nominee. It's not so easy with Iowa or New Hampshire.
For the Republicans, the winner of the New Hampshire primary has gone on to win the nomination all but three times (1964, when it went with Henry Cabot Lodge instead of Barry Goldwater; 1996, when Pat Buchanan won the primary but the nomination went to Bob Dole; and 2000, when John McCain walloped George W. Bush in the first primary). For the Democrats, winning in the Granite State is much less an indicator that the victor will go on to become the nominee. The Dem winner in New Hampshire failed to win the nomination in 1952 and 1956 (both times going with Estes Kefauver instead of Adlai Stevenson), 1968 (Lyndon Johnson won but dropped out), 1972 (Ed Muskie instead of George McGovern), 1984 (Gary Hart over Walter Mondale) and 1992 (Paul Tsongas over Bill Clinton).
In Iowa, GOP voters went awry twice, in 1980 (picking George H.W. Bush over Ronald Reagan) and 1988 (not only did Bob Dole win the caucus, but the eventual nominee, the aforementioned Bush, finished third). The top Democrat in Iowa in 1972 was Ed Muskie, who saw the nomination go to the aforementioned McGovern. Similarly, the winners in 1988 (Dick Gephardt over Michael Dukakis) and '92 (Tom Harkin over Clinton) failed to win the nomination.
Here's a chart of how Republicans and Democrats have fared in the first three major contests and who ultimately won the nomination. I start this chart in 1952, when New Hampshire began its string as the first-in-the-nation primary contest. Years when the party's nomination was uncontested – for example, as in 2004 with George W. Bush – are not included.