Wounded Warriors Find Safe Harbor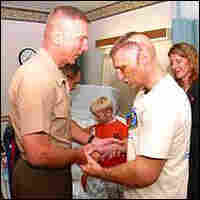 A Marines barrack at Camp Lejeune in North Carolina serves wounded veterans, helping people like Lieutenant Colonel Tim Maxwell deal with life after a major brain injury.
Maxwell, 42, completed six tours of combat duty before he was injured. As soon as he could walk, he found sitting around doing nothing unbearable. He began making visits to the military hospital at Camp Lejeune.
"I just wanted to go see some of the other wounded guys," he says. "I couldn't even drive yet. My wife would take me and drop me off and then pick me up like two hours later."
Maxwell still struggles to find the right words, but one thing he's sure of is that recovering troops benefit from being around each other. Often, a Marine or soldier is left behind to go through rehabilitation while his or her unit remains in Iraq. He tells of meeting veterans going through the painful process of healing after a traumatic brain injury, essentially alone. "I thought, golly, we should put these guys all living in the same place," he says.
Today, that inspiration is embodied in Maxwell Hall, the barracks for wounded veterans at Camp Lejeune. Lt. Col. Maxwell was named in Esquire magazine's recent "Best and Brightest for 2007."