Congo's Humanitarian Crisis Worsens
Congo's Humanitarian Crisis Worsens
In the Democratic Republic of Congo an already bad humanitarian crisis worsens with the eruption of clashes between Hutu army troops and forces loyal to a renegade Tutsi general.
STEVE INSKEEP, host:
It's MORNING EDITION from NPR News. I'm Steve Inskeep.
RENEE MONTAGNE, host:
And I'm Renee Montagne.
Congo, has for years, been in a continuous state of turmoil and now an already bad humanitarian crisis has worsened. It's in the eastern part of this vast nation, the Democratic Republic of Congo has not been able to get control over that area. Their rival arm factions are competing for territory, and now clashes have erupted between government troops and forces loyal to a renegade general. Ethnic Lehi(ph) is a Tutsi fighting against the rival Hutu militia with ties to the 1994 genocide in their home-country, neighboring Rwanda.
Joining us now from Goma, a city in eastern Congo, is NPR's Ofeibea Quist-Arcton. Hello.
OFEIBEA QUIST-ARCTON: Good morning.
MONTAGNE: A really complicated situation, exactly what is the current military situation there?
QUIST-ARCTON: That's a big question mark. For government, in the past few days, has said that it's tired of waiting for the dissident general, Laurent Nkunda -as you said he's a Tutsi - to lay down his arms.
He says he's not prepared to disarm until the government troops have disarmed a rival militia made up of Hutus who come from across the border in Rwanda. He says they are threatening his Congolese Tutsi community, and until they're disarmed, he won't disarm.
The government says we've waited long enough, so now a military push; we're going to use all our force. So everybody is waiting to see what happens.
MONTAGNE: And what does this mean for the civilians? When you talk about a humanitarian crisis, how does this worsens that?
QUIST-ARCTON: It means that tens of thousands of civilians are again on the move whenever they hear gunfire…
(Soundbite of gunfire)
QUIST-ARCTON: …between the government and the Nkunda's forces - they take off. So Goma, which is the most beautiful city, it's a city that is surrounded by rolling hills and the great lake, Lake Kivu, just on the outskirts of this town.
There are huge displaced people's camps, full of women and children and people who are constantly on the run, because of this continuing conflict, and they live in pitiful circumstances.
They sometimes have to leave even the displaced people's camps when there is fighting nearby. They come back, and the little they had managed to escape with has been looted by men in military uniform, and, of course, not just the looting of their property, but sexual violence, which is rampant in this area, against women and children by armed militias, the government army, and we're told, civilians.
MONTAGNE: Ofeibea, as briefly as you can, remind us what is the root of this problem.
QUIST-ARCTON: Depends who you speak to. Some people say it's an ethnic conflict. Some say it's a conflict because of Congo's huge riches. This is a country that has diamonds, that has gold, that has (unintelligible), Renee, that you used in your mobile phone.
And over the years, the past decade or so, Congo has lived through back-to-back conflicts. It has drawn in armies from six neighbors because many people say everybody is after Congo's riches, but right here in eastern Congo, right at the moment, it is down to almost an ethnic conflict between this Hutu militia and, of course, the Tutsi who say they are under threat.
MONTAGNE: NPR's Ofeibea Quist-Arcton speaking from the city of Goma, Congo.
Read about the long history of Congo's struggles at npr.org.
NPR transcripts are created on a rush deadline by Verb8tm, Inc., an NPR contractor, and produced using a proprietary transcription process developed with NPR. This text may not be in its final form and may be updated or revised in the future. Accuracy and availability may vary. The authoritative record of NPR's programming is the audio record.
Shades of Congo's Troubled Past Appear
Pascal Guyot/AFP/Getty Images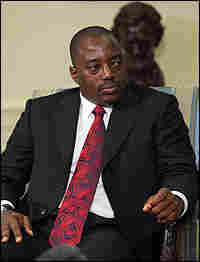 Mandel Ngan/AFP/Getty Images
Lionel Healing/AFP/Getty Images
Lionel Healing/AFP/Getty Images
A little more than four years after the close of the fiercest war in African history, the Democratic Republic of Congo is bracing for what could be another spasm of violence.
A rebellion led by a former army general in eastern Congo threatens to reignite ethnic hatreds and undo years of effort to disarm fighting factions. It could also wreck efforts to develop the rich resources belonging to one of the world's poorest populations.
But experts say that lost opportunities in the past could offer some valuable lessons for the United States and the international community to help head off another war.
The Horrors of War
The horrors of war are a constant memory in Congo. The latest conflict, a five-year battle ending in 2003, was one of the deadliest since World War II. Eight countries were drawn into what is sometimes known as the Great War of Africa. Famine, disease and fighting killed nearly 4 million people. Millions more fled, only to wind up in the near-permanent displacement of refugee camps.
Mauro De Lorenzo, a resident fellow at the American Enterprise Institute, says Congo's recent woes began with an earlier refugee crisis. Between 1994 and 1996, at least a million Hutu tribal members crossed the border from Rwanda. Most were fleeing revenge, after a Hutu-led genocide killed at least 500,000 Tutsis and thousands of moderate Hutus.
Hiding among the Hutu refugees were former militia fighters who had actively taken part in the genocide.
"We as American taxpayers were nourishing and providing succor to people who had just committed genocide," says De Lorenzo. "They managed to control the aid and use it to re-arm."
He says the first Congo War might have been prevented if Congo's neighbors and the international community had been more aggressive in separating the extremists from the other Rwandan refugees.
Backing Laurent Kabila
Congolese dictator Mobutu Sese Seko was losing his grip on the country after 30 years in power, and he did nothing to stop the Hutu militias from staging raids back into Rwanda. That led Rwanda and neighboring Uganda to back Congolese rebel groups led by Laurent Kabila, who overthrew Mobutu in 1997.
Kabila's victory in the civil war didn't bring peace to much of the country.
For one thing, his allies from Rwanda and Uganda ignored his requests to remove their troops from Congolese territory. A United Nations report later accused the two countries of systematically looting Congolese resources, including diamonds and cobalt. When Kabila finally ordered them out in the summer of 1998, they switched their support to anti-Kabila rebels who launched an offensive toward the capital city, Kinshasa.
Kabila's government might have fallen if it were not for the backing of other regional powers. President Robert Mugabe of Zimbabwe sent troops, reportedly in return for contracts that allowed his family-owned companies to exploit hundreds of millions of dollars worth of mineral resources in eastern Congo.
Kabila also received support from Angola, Namibia, Chad and Libya. Sudan cooperated by supporting rebel groups in Uganda. Despite U.N. mediation efforts and a series of ceasefire agreements, the fighting boiled on.
Kabila was assassinated in 2001 and succeeded by his son, Joseph. The younger leader was able to hold out until his opponents began to exhaust their resources and to fight among themselves. Both Rwanda and Uganda signed peace agreements and withdrew their troops in late 2002.
Accusations of Atrocities
The end of the war brought an end to much of the foreign intervention in Congo's affairs, but internal rebel groups have continued to raid and abuse civilians in the eastern provinces. Among the most powerful groups is the Forces Democratique de la Liberation du Rwanda, or FDLR, the Hutu militia that's blamed for the 1994 Rwandan genocide. But all sides, including the Congolese Army and the United Nations peacekeeping force, have been accused of atrocities, including gang-rape, sexual slavery, mutilation and forced cannibalism.
The American Enterprise Institute's De Lorenzo says Kabila should never have cooperated with the FDLR, which has been on the U.S. State Department's list of terrorist organizations for years. He points out that Kabila could use American help in expanding his political base so that he doesn't need the Hutu militia's support.
The latest convulsion in Congo seems to have all the elements that have led to war in the past.
A former Congolese army commander, Gen. Laurent Nkunda, has assembled a sizable rebel force over the past several years, claiming to want to prevent genocide against members of his own Tutsi tribal group. Like most other armed groups in the region, Nkunda and his troops have repeatedly been accused of war crimes and atrocities, and he is under investigation by the International Criminal Court.
Early this year, the Congolese government attempted to integrate Nkunda's troops back into the national army, but he broke away again. A recent U.N. report says the rebel force presents the single most serious threat to stability in the Congo.
President Bush met last month with President Kabila at the White House, and he congratulated the Congolese leader on organizing and winning free and fair elections in 2006. For his part, Kabila said his government needs continued support from the United States to extend stability and development throughout the country.