StoryCorps Griot: A Chance Encounter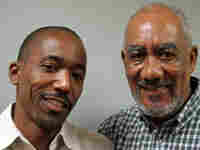 At a StoryCorps booth in Oakland, Calif., Cheo Taylor asked his father, Donald, about how his parents met.
As Donald told it, it was 1958 and he was in the Air Force. His future wife, Doris, was a secretary at Fort Mason Military base in San Francisco.
They dated for nine months and were married in December of 1958.
Divorced in 1970, they remarried in 1980. The couple had three children: Cheo, Matthew and Kent.
The StoryCorps Griot Booth is currently in Memphis, Tenn. Next stop is Harlem, New York.
All the Griot Initiative recordings are archived at the Library of Congress. A copy of each interview will also go to the National Museum of African American History and Culture in Washington, D.C.
Now you can read more stories like this one in the first ever StoryCorps book, Listening Is An Act of Love.
This segment was produced by Selly Thiam. Senior Producer for StoryCorps is Michael Garofalo.