Top Five Musical Sleigh Rides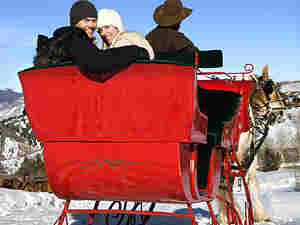 Even in an age of hybrids and Hummers, traveling by horsepower in an open sleigh — complete with jingling bells — is still an iconic image for the winter holidays. Bundle up and hop aboard these musical sleigh rides from some of classical music's most creative composers.
1. Wolfgang Amadeus Mozart
German Dance, K. 605, No. 3
Sleigh rides were a popular winter pastime in Vienna during Mozart's time. Tinkling bells were a part of the tradition, as well as the sound of the post horn. Mozart includes both in his musical sleigh ride, and borrows part of his melody from an old Austrian folk tune. Neville Marriner conducts the Academy of St. Martin-in-the-Fields. (Philips 438 045)
2. Gustav Mahler
Symphony No. 4 -- 1st movement (excerpt)
In addition to the jingling sleigh bells, listen for Mahler's chirping flutes and a warm, lyrical melody in the cellos that will help take away the biting cold. Michael Tilson Thomas conducts the San Francisco Symphony. (SFS 821936)
3. Leroy Anderson
Yes, it's heard everywhere from shopping malls to doctors' offices, but the sheer joy in Anderson's "Sleigh Ride" is tough to top. Erich Kunzel conducts the Cincinnati Pops Orchestra. (Telarc 80226)
4. Jacques Ibert
Petite Suite -- 'Sleigh Ride'
Here's an off-the-beaten-path "Sleigh Ride" by a composer best known for transforming his Mediterranean travels into a fine orchestral suite. Ibert had a knack for writing sprightly, witty works while at sea or on land. This one dates from 1943. Hae-won Chang, piano. (Naxos 8.554720)
5. Sergei Prokofiev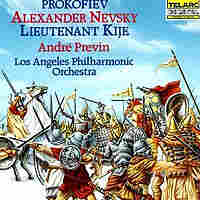 Lt. Kije Suite -- 'Troika'
A "troika" refers to a Russian sleigh, drawn by a trio of horses. Prokofiev wove this colorful sleigh ride into his 1933 film score about the adventures of a fictional lieutenant. Andre Previn conducts the Los Angeles Philharmonic. (Telarc 80143)
Naomi Lewin is the midday music host at WGUC in Cincinnati, where she also writes and hosts the award-winning Classics for Kids, a program that airs on public radio stations around the country. Lewin also produces Met Cameo intermission features for the Saturday-afternoon Metropolitan Opera broadcasts.
Cincinnati-based WGUC plays classical music 24 hours a day, reaching out to both classical newcomers and longtime aficionados.
Web Resources