World Sock Capital Suffers From Duty-Free Imports
World Sock Capital Suffers From Duty-Free Imports
This is the first of a two-part report.
Hear Part 2 of This Report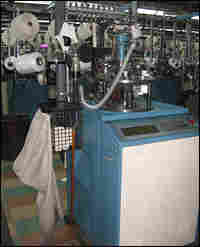 Investing in the Future
Fort Payne is filled with people who built entire lives around the sock mills. In a town of 13,000 people, there were more than 8,000 sock mill jobs just a few years ago. Every family had at least someone working in the mills.


When the U.S. started importing large numbers of socks from lower-wage countries in the late 1990s, Fort Payne's sock industry had a quick and vicious shakeout. Two-thirds of the 150 sock mills closed. Thousands of jobs were eliminated.


Today, the town is hoping to avoid the same fate for its youngest residents. It's investing in technologically advanced education tools in the hope that its high school graduates will be able to take advantage of a wave of new high-tech jobs coming to the region. Read that story.

John Shugart describes how free trade agreements have impacted the World's Sock Capital.
Gerald Kelly explains why he moved his sock plant.
There's no question that globalization has been really bad for the sock industry of Fort Payne, Ala. Just a few years ago, the town called itself the sock capital of the world, and with good reason: Most of the town worked in the sock business.
There were more than 150 sock factories, churning out a big chunk of the socks worn in the U.S. But lately, there has been a flood of cheaper socks coming in from China, Pakistan and Honduras. It has devastated Fort Payne. Two-thirds of the town's sock mills have closed.
Jimmy Baker is one of the survivors. His company, Baker Hosiery, is hanging on. He has seen most of his neighbors go out of business.
Baker started the company almost 30 years ago, when he was 22. Like most sock men, Baker doesn't have a lot of education, but he's smart. He's polite and a bit tough; he looks like he could lift a Matec Mono 4 knitting machine right over his head.
As it happens, he has 250 of those Matecs humming loudly in his knitting facility.
There are hardly any workers on his knitting floor. Sock machines knit automatically.
Each one is about the size of a large washing machine. There's a metal tube in the middle with dozens of needles that act like robotic claws, grabbing pieces of thread and knitting them. Every few minutes, each machine spurts out what's called a sock core, a gray sock tube with the toe still open.
Baker tells me he can make a sock core just as cheaply as anyone in China or Honduras. The machine costs the same. So does the yarn. There's hardly any labor.
The big cost, and the reason more than 100 Fort Payne mills have shut down recently, comes in the next step.
"Generally, the biggest difference is the closing of the toes or the seaming of the sock," Baker said.
Take your shoe off. Look at your sock. That little line near your toes, that seam — it is what's killing the U.S. sock industry.
It costs more to seam a sock in the U.S. than it does in China or Honduras.
It doesn't cost a lot more, just a little. But that difference is enough to wreak havoc.
The Sewing Floor
On Baker's sewing floor, there are four women sitting in front of specialized sewing machines. It takes about five or six seconds to sew each sock toe. The faster the sewer can work, the more she makes.
Sock workers are paid per sock, rather than an hourly wage. They generally make 22 to 30 cents for every dozen pairs of socks they sew. In Honduras or China, it's a penny per sock cheaper to sew a toe closed than in the U.S.
And those pennies add up. Baker sells more than 100 million socks a year. Nationwide retailers are buying billions of socks a year. Those retailers are not going to spend a penny more per sock.
So, Baker and others decided the only way to save the U.S. sock industry was to persuade the Bush administration to reverse a decades-old policy. Back in 1984, the U.S. wanted to help the poor Central American nation of Honduras — where democracy had only just replaced a military dictatorship — by allowing duty-free exports of socks whose toes were seamed there.
Today, Baker wants the U.S. to rescind that deal and re-impose the old sock tariff of somewhere around 14 percent.
Baker says that for him, getting this tariff back is life or death. With it, his business will thrive. Without it, he's doomed. He'll close up shop. And so will most American sock makers. But the president is a committed free-trader. He believes that tariffs hurt the U.S. economy.
Why in the world would President Bush go along with reinstating the tariff?
There's only one reason: a deal President Bush struck late one night in July 2005.
The Deal
That July night, Bush met with Fort Payne's congressman, Robert Aderholt, to talk about tariffs and the sock business.
That meeting was, most likely, the moment Aderholt had more power than at any other time in his life. The House was voting on CAFTA, the Central America Free Trade Agreement. The vote was an exact tie. Aderholt was the holdout. And President Bush very much wanted CAFTA to pass. So, Aderholt offered the president a deal: He could get his big free-trade deal only if he rolled back free trade on one industry, the sock industry.
"I told him this was what I needed," Aderholt said. "This was the one thing I had great concerns about."
That night, President Bush agreed to Aderholt's deal. CAFTA passed. And the White House gave itself a self-imposed deadline of Dec.19, 2007, to put back tariffs on sock exports from Honduras.
Jimmy Durham, the county economic development officer, shows just how grim things have been for the sock business here.
On street after street, he points to buildings that used to house sock mills, most of which are now gone. With all these businesses shuttered, you might think Durham is in despair about the future of Fort Payne. He isn't.
Those closed sock factories are reopening as new businesses.
He points to Steadfast, which makes bridges; Ferguson, a major plumbing supply company; a distribution center for Children's Place; two new metal tube manufacturers; a high-tech label maker. For a town of only 13,000 people, this is a lot of new, good-paying employment. These jobs pay more than sock-making jobs.
In fact, most of 4,000 recently laid-off sock workers quickly found new jobs. It's an irony that reversing this tariff — fought for so hard by some in Fort Payne — will likely have its biggest impact thousands of miles away in Honduras.
Fort Payne Sees Future in High-Tech Education
Probably the greatest and worst thing about the U.S. sock industry is that it is open to anybody. You don't need a high school degree or any work experience to get a sock job.
"Wouldn't make a difference if you had a high school degree or not," says Robert Wills, a former sock worker. "They just look at how mechanically inclined you are. You won't learn that in high school."
Wills never finished high school. Why bother? It was easier to just go get a job in a sock mill, just like his mom and dad and most of his uncles did. Wills is 60 now and had a good career.
Like many in Fort Payne, Ala., Wills was able to acquire more and more sock-making skills. Eventually, he opened his own business, as a sock machine specialist. He'd come into a mill and fix broken knitting machines. He specialized in K-Ends and Crawfords, an older kind of machine that didn't have computer-based controls. By 2003, most of the mills that used those old machines had closed or invested in newer models.
Wills suddenly found that there was no demand for his specialized services. He got a full-time job at Durham Hosiery, one of the last mills that still used K-Ends. But even Durham was investing more and more on newer equipment with computers. And Wills didn't know how to operate those.
"With computer machines," he says, "it's more important to have an education."
Skills No Longer Marketable
Fort Payne is filled with people like Wills, who built entire lives around the sock mills. In a town of 13,000 people, there were more than 8,000 sock mill jobs just a few years ago. Every family had at least someone working in the mills. Some started on a cleaning crew, sweeping up lint, and eventually moved up to higher-paying jobs as a sewer.
It wasn't until the late 1990s that the U.S. started importing large numbers of socks from lower-wage countries, like China, Pakistan and Honduras. Since factories in those places were able to pay their workers less, manufacturers could cut away at the cost of making a sock.
Fort Payne's sock industry had a quick and vicious shakeout. Two-thirds of the 150 sock mills closed. Thousands of jobs were eliminated. Wills says he was given two weeks' notice and one day's severance when he was laid off.
In the space of five years, Fort Payne went from a successful town to one with a whole lot of laid-off high school dropouts with no skills marketable to anybody outside of the sock industry. Many were old enough that they just retired. Others moved out of town. Wills decided to get his GED — he passed the test on his third try earlier this year. He's now studying for the entrance exam to a local college.
He doesn't know what kind of job he'll try to get when he graduates. "No," he says. "That's what I'm trying to figure out."
Investing in Education
Jimmy Cunningham says Fort Payne has learned its lesson. It needs its citizens to be well-educated, so they can take advantage of globally competitive industries. Cunningham is superintendent of schools and he says the surest sign that Fort Payne is preparing well for the future is the Promethean Board.
Fort Payne is hoping to become the first school district in Alabama to have a Promethean Board in every classroom. These boards are 21st-century blackboards. They act as large computer screens: Teachers can easily display educational films and dynamic illustration. Each student has an input device at their desk, so the teacher can have instant-feedback quizzes and interactive lessons.
Cunningham says the boards aren't necessarily there for the brightest students, the ones who would have done well in school no matter what technology was there. The new boards are best at reaching the marginal student, the student who, a few years ago, would most likely have dropped out to get a job in the sock mill. Cunningham believes the Promethean Boards can help keep that student engaged a bit longer — long enough, he hopes, to actually graduate from high school.
There's another advantage, says Jimmy Durham, the county economic development office, who also happens to be the head of the school board. He says the Promethean Boards are "our No. 1 recruiting tool." When a new company is considering whether to open a new facility in Fort Payne, "I bring them here," Durham says, to the local high school.
Durham says businesspeople see that Fort Payne is so committed to technologically advanced education that it spent a small fortune (around $2 million) to improve its schools.
"It's a major reason to locate here," he says. Companies know that Fort Payne will provide a continual stream of well-educated high school graduates.
Reaching for New High-Tech Jobs
Durham says there has been a high-tech revolution in Alabama. Mercedes-Benz, Toyota and Honda have all opened plants in the state. And that means a huge influx of parts suppliers. BAE Systems, a major U.K. aviation company, opened an engineering office in Alabama.
Durham says there are now more high-paying, high-skill jobs in the state than there are people qualified to take them. If Fort Payne's young people stay in school and develop more skills, he says, they can get these 21st Century jobs right away.
A casual observer would have likely thought that Fort Payne's economy would pretty much collapse if the sock industry disappeared. Most people thought Fort Payne's economy was entirely sock-based. So it's remarkable that these days, the economy is doing fine. Several new businesses have come to town. The unemployment rate has stayed the same, even as the population has increased. In other words, the number of jobs has gone up, even as thousands of sock-making jobs have gone away.
Things are not so rosy for everyone, of course. While some sock workers have found newer, higher-paying work, others have to settle for the new industry that doesn't require a high school degree: retail sales.
In the past few years, Fort Payne has seen an explosion of new, big box retailers, staffed with many people making half of what they got sewing socks. The hope is that their children—helped by things like those Promethean Boards—will do far better.
This story was produced for broadcast by Marisa Penaloza