Roadside Attractions Fading from Landscape
Roadside Attractions Fading from Landscape
Road Rules: Attractions Worth a Pit Stop
The Titan Missile Museum tops the list of the 10 best roadside attractions in America from the editors of RoadsideAmerica.com. Find out what other roadside curiosities are recommended by the experts.
Elvis on eBay
Baptist preacher Bill Beeny has spent the past 17 years trying to convince the world that Elvis isn't really dead. Recently, his Elvis Is Alive Museum in Wright City, Mo., went up for sale on eBay.
Related NPR Stories
A staple of the American road trip could be slowly disappearing from the nation's interstates and byways. Owners of some roadside attractions are deciding that interest is waning in such treasures as the world's largest ball of string, Stinker the monkey or a flock of ducks escaping from a replica of the Titanic.
On Interstate 70 in western Kansas, the billboards call frantically to motorists to come see the world's largest prairie dog, an 8,000-pound rodent that's actually made out of concrete.
Visitors of Prairie Dog Town also get to see a six-legged cow, a five-legged steer, several stuffed Jackalopes and a wild Russian boar.
Larry Farmer charges $6.95 admission to what is essentially a large petting zoo with a couple of freak show animals. Farmer, who turned 68 this year, is no longer as passionate about prairie dogs as he once was. After 40 years and recent health problems, he has decided to put his miniature theme park up for sale.
But in the age of DVD-equipped minivans, iPods, and handheld video games, mom-and-pop attractions like this are having a harder time pulling customers off the highway.
The Elvis Is Alive Museum near St. Louis closed its doors earlier this month. The proprietor, 81, decided to auction off his museum on eBay.
Doug Kirby, who runs the RoadsideAmerica.com Web site, says that a lot of quirky attractions don't survive a transfer of ownership. Local building inspectors tend to crack down when a roadside petting zoo or an overgrown exhibit of hubcaps goes up for sale, he says.
But Kirby still has faith that the roadside attraction will persist in some form as an American institution.
For every Toilet Seat Museum or Prairie Dog Town that disappears, he says, someone has opened a backyard rollercoaster or a tribute to old glass bottles.
America's Best (and Strangest) Roadside Museums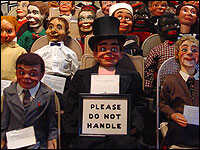 Take a long road trip, and you're sure to see signs for the world's largest ball of string or the world's smallest dictionary or the world's creepiest shrunken head. The interstates and dirt roads of America are teeming with roadside curiosities, so it can be hard to know which attractions warrant pulling over the car. That's why we've asked the aficionados of America's roadside attractions to offer their top 10 favorite roadside museums. From the Toilet Seat Museum in Texas to the Dan Quayle Vice-Presidential Museum in Indiana, these experts know how to spice up a good road trip.
Doug Kirby is the editor of RoadsideAmerica, a comprehensive web guide that features over 8,000 uniquely odd museums, monuments and tourist traps that enliven the U.S. tourism landscape.
Brian and Sarah Butko are the co-authors of Roadside Giants and Roadside Attractions: Cool Cafés, Souvenir Stands, Route 66 Relics, and Other Road Trip Fun.
---