Sondre Lerche's Two Real Lives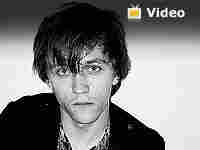 This year, Sondre Lerche has had a regular studio album, Phantom Punch, and done the entire soundtrack for the film Dan in Real Life, starring Steve Carrell.
Lerche has had indie respectability since his 2001 album, Faces Down. Now that he has burst through to the mainstream, Lerche keeps on plugging, performing a few songs live in our Bryant Park studio.
Video: Sondre Lerche plays 'To Be Surprised'