'The Savages' Captures Realities of a Family Crisis
'The Savages' Captures Realities of a Family Crisis
The Savages, with its depiction of family members dealing with their ailing father, hit close to home for NPR film critic Bob Mondello. Movies are emotionally effective, Mondello says, because they come so close to the truth.
MELISSA BLOCK, host:
The subject of that film - moving an aging parent into a nursing home - is one many audiences will find familiar.
That's the case for our critic, Bob Mondello.
BOB MONDELLO: Movies have to echo life or you'd never believe a moment of what happens on the screen. But most of the time, the echoes are distant. Bruce Willis dislocates his shoulder while flying his car into a helicopter, and sure, I feel his pain but at a certain remove.
"The Savages," on the other hand, when Jon and Wendy Savage go to the hospital and find their dad confused and strapped to his bed because he's been getting up and driving the nurses crazy, I've been there. Got the T-shirt, still can't shake that soundtrack.
(Soundbite of movie "The Savages")
Mr. PHILIP SEYMOUR HOFFMAN (Actor): (As Jon Savage) Hi, dad.
Ms. LAURA LINNEY (Actor): (As Wendy Savage) Hi, dad. How are you?
Mr. HOFFMAN: (As Jon) How are you?
Mr. PHILIP BOSCO (Actor): (As Lenny Savage) Shouldn't have me confined for two days.
Ms. LINNEY: (As Wendy) Well, we got here as soon as we could. We came straight from the airport. It's Jon and Wendy.
Mr. BOSCO: (As Lenny) I know who you are, the late ones. You're late. You are here and this is what they do.
MONDELLO: It was minutes in our case, not days, but it felt the same. And the why was in the next scene. The film's doctor offered a diagnosis and I knew it before he said it - Parkinson's, those tiny steps that actor Philip Bosco had been taking when he walked, the Parkinson's shuffle, just like my dad's.
Later moments rang just as true even when played for comedy - the nursing home search, the living will awkwardness, the confusions when you think you're all on the same page, and suddenly you're not.
(Soundbite of movie "The Savages")
Mr. HOFFMAN: (As Jon) Once you're in a coma…
Ms. LINNEY: (As Wendy) Jon…
Mr. HOFFMAN: (As Jon) …would you want a breathing machine to keep you alive?
Mr. BOSCO: (As Lenny) What kind of question is that?
Mr. HOFFMAN: (As Jon) It's a question we should know in case.
Mr. BOSCO: (As Lenny) In case what?
Mr. HOFFMAN: (As Jon) It's this procedure, something they want for the record.
Mr. BOSCO: (As Lenny) Who?
Ms. LINNEY: (As Wendy) The people who run the place, the Valley View.
Mr. BOSCO: (As Lenny) What the hell kind of hotel is it?
MONDELLO: Dad talked about the hotel, too. Now, some of this is just recognition. And as a movie critic, I've mostly learned to get past that. I take notes, remember that stories are universal, basically take a step back. Sometimes, it's not easy. You try watching "The Princess Bride" three days after falling in love or seeing the Tom Hanks dog movie "Turner & Hooch" a week after getting a puppy. Critical faculties I thought were hardwired suddenly short-circuited. And I just wanted to scratch that mutt's ears and (unintelligible).
"The Savages" is a little different, though, more fraught even played as comedy, with moments that I figured would be painful. But I found myself admiring how right the film kept getting things. And at a previous showing where the audience talked afterwards, I wasn't alone. During the discussion, lots of people told stories virtually matching those in the film. And to a person, what had grabbed them was that they saw truth up there on the screen.
In an era of special effects and fantasy, that may sound counterintuitive. But truth is really film's great strength, always has been. For centuries, the stage had approximated life. But when film came along, the miracle for audiences was that those flickering shadows weren't approximations. They were reality captured and somehow heightened in the capturing. Our great-grandparents would never have gone to a stage show to see someone sneeze, especially given the influenza pandemics that killed millions in the 1800s.
But that bit of personal baggage didn't get in the way in 1894, when Thomas Edison captured a sneeze on a film strip and showed it as a five-second attraction that was among the first motion pictures ever created. No plots, nothing but the truth of real experience. And it was an instant smash, so popular in fact he had to copyright it.
I'm Bob Mondello.
BLOCK: You can see clips from "The Savages" and hear Laura Linney talk about her dark days as an acting student as well as a critical lesson she learned from Clint Eastwood at npr.org.
NPR transcripts are created on a rush deadline by Verb8tm, Inc., an NPR contractor, and produced using a proprietary transcription process developed with NPR. This text may not be in its final form and may be updated or revised in the future. Accuracy and availability may vary. The authoritative record of NPR's programming is the audio record.
Laura Linney Explores the Art, Artifice of Acting
Laura Linney Explores the Art, Artifice of Acting
Mark Fellman/Fox Searchlight Pictures
More from the Interview
Laura Linney on How She Almost Dropped Out of Juilliard and the Role Her Father Played in Her Development as an Actress
Linney on the Critical Lesson Clint Eastwood Taught Her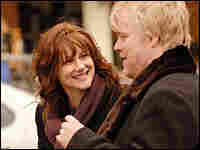 Andrew Schwartz/Fox Searchlight Pictures
Scenes from 'The Savages'
'Are You Here for the Support Group?'
Laura Linney seems to disappear into her movie roles.
She has played a protective single mother in You Can Count on Me, a scheming, malevolent Bertha Dorset in The House of Mirth, and the wife of sex researcher Alfred Kinsey in Kinsey, among many other diverse characters.
This year alone, she appears in five movies, including Breach and The Nanny Diaries.
In her latest film, The Savages, Linney portrays a deliciously flawed character.
"She steals. She lies. She's having an affair with a married man. She is fraudulent, and she applies for grants she doesn't deserve —or isn't even really eligible for. She's a mess. She's like an out of control 11-year-old," Linney tells Melissa Block.
Linney's character is Wendy Savage. Philip Seymour Hoffman plays her brother. And together they confront a scenario that will resonate with many viewers.
The Savages have to put their estranged father in a nursing home when he develops dementia. The film doesn't romanticize the ordeal: It is dark, but with a healthy dose of the absurd.
The role of Wendy Savage, which Linney calls "terrific," was one thing that drew Linney to director Tamara Jenkins' project. The other, she says, was that the script was in "perfect condition."
"My experience is that's rare — that you have a script that is ... what they call 'film-ready,'" Linney says.
It was neither too long nor short, and it made sense as a script, which Linney likens to a "blueprint" or an "architect's rendering of a house."
These days, Linney says, many scripts are written to be financed, not to be acted.
"And so the agenda behind the writing is to explain, as opposed to give cues and hints to an actor to act."
As a result, Linney says, many of the scripts she sees are overwritten. Her tendency is to strip the dialogue down, "because you don't have to say things all the time; you can act them."
"Otherwise, you have a character who doesn't connect to anything because they talk too much," Linney says.
The role of Wendy Savage — and the character's contradictory nature — exemplifies what Linney found appealing about The Savages script.
"She is someone who is frantic and manic, and yet has moments of great stillness. She is someone who is incredibly narcissistic and emotionally immature and child-like, and yet, capable of recognizing the wisdom of a moment and being extremely sympathetic," Linney says.
For many people, The Savages would seem very "down."
Instead, Linney said she saw "enormous, wonderful humor that came from the deepest parts of humanity," which for her is "the most fun."
Linney explains why she thinks it's not right for her to apply personal baggage to a character — although if she has had an experience that parallels that of a character she is playing, her memories will "bleed through."
Like Wendy Savage, Linney has had the experience of walking around a nursing home and leaving someone there.
"But it has to be the character's experience. I don't think you should exploit your own pain. My own pain is my pain. And most of the time it's not appropriate for the situation at hand," she says.
Linney says she is leery of another aspect of a career in Hollywood: revealing too much about her private life.
That's because she believes it takes audiences "out of the moment, and they're not fully engaged in the story, the character, the movie."
"A lot of what is publicized now is really pretty trivial stuff — you know, what I eat for breakfast, where I have my pedicures, questions that I just cannot for the life of me understand why someone would want to know that," Linney says.
"I think you have to be careful with stuff like that. I think there are some actors who are really wonderful actors, but they become so famous that you don't see their work, you see them playing the part and ... you think about who they're dating. ... I do it, which is why I don't want it to happen to me."
Linney admits that People magazine has been known to land in her lap.
"I go to the dentist. I take trains. It's impossible in this day and age to cut yourself off from that stuff. It just sort of is."