Top CDs of 2007, from 'The Current'
Steve Seel, afternoon music host on Minnesota Public Radio's The Current, offers his picks for the Top 10 albums of the year.
1. Andrew Bird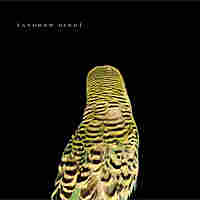 This guy is what sonic and songwriterly innovation is about in the 21st century. Nobody at the moment has managed to synthesize genuine music-school talent, technological trickery and a fabulously weird point of view in the way that Andrew Bird has. If that weren't enough, 1) the songs themselves are catchy and entertaining; and 2) he brought a veritable cavalcade of Twin Cities musicians along this time, including Jeremy Ylvisaker, Haley Bonar and percussive kindred-spirit Dosh. Intimate, epic, lovely, weird, gorgeous.
from Andrew Bird, Armchair Apocrypha
2. The National
There are two primary bands on the A-list indie-rock scene right now who address "how a world that's gone mad is affecting us on a personal level": The Arcade Fire and The National. The former's approach is grand, martial and banner-waving; this band's is dusky and hidden in dark apartments and bars. The Arcade Fire is a brilliant band, but I'll take this one: The only-inches-away intimacy of Matt Berninger's voice (except when he's screaming like he's having his arm sawed off) more effectively conveys the resigned, confused, beaten-down ethos of the decade we're living in. While many have already proclaimed The Arcade Fire "band of the decade," I'm holding my bets until 2010 — and holding on to this CD.
from The National, Boxer
3. Robert Plant/Alison Krauss
Gone Gone Gone (Done Moved On)
Stunningly gorgeous, aided by the element of pure surprise. And can producer T. Bone Burnett screw anything up? While Rick Rubin may be the career-revitalizer, Burnett is the alchemist.
from Robert Plant & Alison Krauss, Raising Sand

4. John Vanderslice
More harrowing and bracing stuff from a guy from Florida, this time with reflections on Sept. 11, war and peace.
from John Vanderslice, Emerald City

5. Augie March
Boy, this is getting to be quite the indie-rock-heavy list. Except these guys aren't. Rather, they're Australians who create a folky-twangy mix of Jeff Buckley, Travis and "Six Months in a Leaky Boat"-era Split Enz — and you've probably never heard them. Which is an incredible shame.
from Augie March, Moo, You Bloody Choir

6. Bon Iver
This one almost didn't make it in time to qualify, landing in our inbox here at the very tail-end of the year (thanks to a Pitchfork-created firestorm that cleared the shelves of the artist's entire CD stock). Justin Vernon's surprising sonic hybrid of The Shins, Iron & Wine and even TV on the Radio (among about 12 other things) was almost too refreshing to be believed, and it's DIY to the core.
from Bon Iver, For Emma, Forever Ago
7. Iron & Wine
"Pagan Angel and a Borrowed Car"
Speaking of which, Sam Beam, the decade's lo-fi king, went and got all hi-fi on us for his latest. And rather than killing his music, it just changed it — largely because that silky, mesmerizing voice of his remained constant. Most Hypnotic Song of the Year: "Boy With a Coin" (which appeared first on an EP of the same name, but here it's commingled with 11 other songs of complementary beauty).
from Iron & Wine, The Shepherd's Dog
8. Okkervil River
Our Life Is Not a Movie or Maybe
Okay, this really is a shamelessly indie-rock list after all. One of the biggest surprises of the year, and Will Sheff gets Best Vocal Performance in my book for "Our Life Is Not a Movie, or Maybe."
from Okkervil River, The Stage Names

9. Vicious Vicious
It takes a bit of audacity to name your record after another significant local CD of the same name, but the decision was clearly the right one, since it's hard to imagine the disc having any other title. Pop music that reaches for the clouds, and then floats away on one. Deliriously good.
from Vicious Vicious, Parade
10. St. Vincent
Clearly, sexism is not dead, since there was plenty of "Holy cow, listen to how she shreds that guitar!" chatter with the Beggars Banquet debut from the woman born Annie Clark. She does play a mean, almost avant-garde axe a la Gary Lucas or Fred Frith, but it's her singing, songwriting and arranging that make up the whole searing package.
from St. Vincent, Marry Me
Trusting that The Arcade Fire, Spoon, The Shins and Wilco are covered elsewhere, here are my personal honorable mentions, which are really far better than the term "honorable mention" indicates:
Rickie Lee Jones, The Sermon on Exposition Boulevard
Tegan & Sara, The Con
Cloud Cult, The Meaning of 8
The Sea & Cake, Everybody
The Veils, Nux Vomica
Metric, Grow Up and Blow Away
Son Volt, The Search