Iowa Town Feels Effects of Immigration Raids
Listen to this 'Talk of the Nation' topic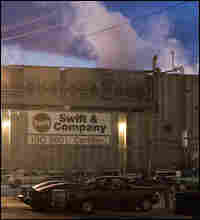 Paul J. Richards/AFP/Getty Images
Immigration in Iowa
In 2006, the office of Immigration and Customs Enforcement (ICE) conducted raids on six Swift & Company meat packing plants around the country, arresting nearly 1,300 people in the largest-ever workplace crackdown on illegal immigration.
One of the plants was located in Marshalltown, Iowa, where the Swift & Company packing plant is the small city's largest employer.
One year later, an ICE official, the mayor of Marshalltown, and other guests discuss the effects the raid has had on the community.
Guests:
Jerry Perkins, farm editor for The Des Moines Register
Martha Garcia, realtor in Marshalltown, Iowa
Marcy Forman, director of investigations for the Immigration and Customs Enforcement, Dept. of Homeland Security
Gene Beach, mayor of Marshalltown, Iowa
Iowa Town Feels Impact of Immigration Debate
Iowa Town Feels Impact of Immigration Debate
Iowa voters hold the nation's first presidential caucuses one month from now. A visit to Marshalltown, Iowa, shows the impact of immigration — one of the key issues in the presidential campaign — on everyday lives.
The Swift and Co. packing plant, the small city's biggest employer, attracts immigrants from Mexico and elsewhere. Last December, federal immigration agents moved in and many undocumented workers were deported.
Others were convicted of identity theft. They'd gone to work using other people's names and Social Security numbers.
The company itself has not been prosecuted. But a federal grand jury has since indicted an American who allegedly advised the workers how to evade authorities.