Des Moines Voters Discuss Campaign Issues
Voters in Des Moines, Iowa, gather at a high school to discuss campaign issues, including health care, the role of the government, and the candidates. They will return to the same school a month from now for the January caucus.
RENEE MONTAGNE, host:
This is MORNING EDITION from NPR News. I'm Renee Montagne at NPR West.
STEVE INSKEEP, host:
And I'm Steve Inskeep standing in a snow storm in Des Moines, Iowa.
The ground is white and slippery under foot. And as we record this, I'm looking at the stone facade of Theodore Roosevelt High School, which is where, in about a month, on a day where the weather may well be like this, some Iowa voters will gather to make their choices for president. It's part of the first presidential caucuses in the nation and an influential choice. So on this day, some of those voters have agreed to come early to give us an idea what they're thinking. Let's go inside.
Unidentified Man: Well, this is kind of like a caucus, isn't it?
INSKEEP: Nineteen Des Moines voters made it here through the snow.
Unidentified Man: Even if you don't quite have a seat at the table, if you could, like, you know, kind of notch in between people.
INSKEEP: They ranged from retired people to a junior at this high school. One woman had a child care problem and brought her three-year-old.
Ms. HEATHER PANERO(ph) (Iowa Voter): …viewpoint. Having a small child, I don't get out that much.
INSKEEP: Heather Panero's daughter was like many Iowans in that she met a presidential candidate. Hillary Clinton saw the girl at church.
Ms. PANERO: She understands that this was a person running for president. She understands that currently George Bush is president so she's been telling people that she met George Clinton, and I'm thinking…
(Soundbite of laughter)
Ms. PANERO: Well, you know, what a merger that would be, honey.
INSKEEP: Panero is a Republican, and she's among many in this room who haven't decided who to support. But before we even mentioned candidates, we asked these voters what's on their minds.
Ms. MOIRA DEATON(ph) (Iowa Voter): I'm Moira Deaton. I am a Democrat. The universal health care thing is gigantic for me because it became crystal clear to me when I got my diagnosis and when I had to take the family medical leave act. But unless my dear friends in Batavia, Illinois, had had an enormous fundraiser for myself and another single mom, we would not have been able to survive, and we had insurance. The whole health insurance thing is absolutely scary. You only had health insurance as long as you are healthy enough to go to your job and work.
INSKEEP: Forgive me for prying, but what was your diagnosis?
Ms. DEATON: I'm a breast cancer survivor. You know, I get the feeling, I'm a huge liability and quite frankly, from an insurance standpoint, I think they just assume that you had died.
INSKEEP: That Democrat's concern is shared by a Republican.
Mr. NATE VILE(ph) (Iowa Voter): You know I'm a jogger so I'm invincible.
(Soundbite of laughter)
Mr. VILE: And the good Lord gave me a wakeup call - a kidney stone in February.
INSKEEP: Nate Vile says the free market is not working, that different people pay different prices for, say, a CAT scan.
Mr. VILE: You know, from my experience with the system, you know, and I've been self-employed my entire career… I mean, I concur what aspects in which it's broken.
Ms. GRETCHEN KAUFFMAN(ph) (Editor): I see a real philosophical difference between me and many of those who've spoken here.
INSKEEP: Gretchen Kauffman is an editor and a Republican.
Ms. KAUFFMAN: I want to be in charge of my health care. I was paralyzed. I had polio. My parents paid for that. They chose the fine doctors who performed three surgeries on me. I can walk. I don't want that dictated by the federal government. And I think what I hear is all this emotion, this tugging at the heart strings. It's bigger than that. What's the federal government responsible for? It isn't for making laws that tell me that I can't eat trans fat. That's my choice. That's my choice.
(Soundbite of laughter)
Unidentified Man #1: Amen.
Ms. KAUFFMAN: That's my choice. And you know, I am single. I am self-employed. I make a great deal of money through my own hard work. I don't want to pay for someone else's child to eat breakfast at school anymore. You know, that is not the role of the federal government.
Mr. JAMES IRWIN(ph) (Iowa Voter): Every Republican I've talked to says I want the freedom to accomplish what I can accomplish. But at the same time, I don't think anyone can live up to their full potential unless they're part of a functioning society.
INSKEEP: That's James Irwin, a Democrat.
Mr. IRWIN: It doesn't matter whether you have a good idea if your factory workers can't read your blueprint.
INSKEEP: Across the table is Republican David Payer(ph).
Mr. DAVID PAYER (Iowa Voter): I'm not saying getting rid of government. We do have a role of government. The government does way too much right now and it does it so inefficiently. It's ironic because a lot of my problem with the government as a stance is that I feel it does too much. I feel it won't let me have a conversation without listening over my shoulder. And I feel that, you know, if you're going to talk about small government, then that is the other side of that same coin.
INSKEEP: Let me move on to another thing that we can try to take a few minutes to do. I want to do something that's a little like a caucus if I can. Do you guys, when you're doing a caucus, you normally standing around the room?
Unidentified Man #1: No.
INSKEEP: Does everybody sit down? You're standing? Could I…
Unidentified Man #2: The D's.
INSKEEP: Can we do - oh, the D's?
Unidentified Man #3: The R's…
INSKEEP: That's it? Well, let me get the D's to stand. Tell me if you were deciding today, who you'd be voting for in that or supporting in that caucus, and say your name before you say the candidate.
JENNIFER(ph): Jennifer - and it's changed every day this week, but today, it's John Edwards, I think.
Unidentified Man #4: I like Joe Biden, but I'm certainly not making that decision today and I'll probably support somebody else tomorrow.
Unidentified Woman #1: Can I (Unintelligible) for a second. Okay. It's really fun to not be decided right now because I like a lot - like five candidates.
Unidentified Man #5: I want to make…
(Soundbite of laughter)
INSKEEP: This is what happens in caucus.
Unidentified Man #6: Yeah.
(Soundbite of laughter)
Unidentified Man #7: I got to tell you because you mentioned John Edwards. I…
(Soundbite of laughter)
Unidentified Man #7: …supported John Edwards the last time, and I made that choice very late because quite frankly, at that point in time, John Edwards was coming on as the person who really made the hairs on the back of my neck stick up, you know, and I got excited. They're all doing that now. And so it's just a matter for me now who sends chills down my spine the most.
INSKEEP: This thing about chills is that more than any particular issue that we've been discussing this morning - is that something about the person, the personality, the capabilities they have.
Unidentified Woman #1: They're not afraid to say what's on their mind directly. I think it's very important to really get to the heart of the matter and not wishy-wash around, not get political answer, give any answer.
Unidentified Man #8: And for those of us that are lifelong Democrats, I think that we share a real belief that this is our time. And so you get chills when you hear - when you hear your candidate's articulate things that say this is why I'm a Democrat.
INSKEEP: Anybody among the Democrats worry that it is your time, it's your opportunity, and you're going to blow it by picking an unelectable candidate.
Unidentified Woman #2: Yes.
Unidentified Man #9: When the Democrats done that.
Unidentified Woman #2: Yes.
(Soundbite of laughter)
INSKEEP: That question who can win is also in the minds of Des Moines Republicans when their chance comes here at Roosevelt High School.
Ms. KAUFFAN: This is Gretchen. I'm a Giuliani supporter. I really think that he is electable. I think he's a reasonable man, and when he speaks, he doesn't follow a script. I was actually paid $75 to go to a focus group, and it turned out it was for Mitt Romney's television commercials. I know that the focus group was targeting women of a certain age who vote Republican - because when we all arrived, we were all of that certain age and voted Republican. But the commercials that you're seeing now where he's standing in front of a house, it's a script, and when I've heard Romney go off script, he's not very light on his feet.
INSKEEP: Dan?
DAN: You know, Giuliani's got baggage. He's kind of a like a Clinton in a way -baggage wise. So I'm looking at the other two guys - Huckabee or Romney. And admittedly, I'm not sure about any of them.
INSKEEP: We should mention that in this room where Iowans make choices next month, we were sitting by a giant picture window.
What's everyone pointing out…
(Soundbite of laughter)
INSKEEP: We saw that Iowa's snow storm and a distraction.
Oh, my gosh, a car full of people just slid on the road and smashed into that wall by the intersection.
Unidentified Woman #3: My son is in that red truck right there. So…
INSKEEP: Oh there's two vehicles.
Unidentified Woman #3: …they just got out of swim practice and…
INSKEEP: Is everybody okay?
Unidentified Woman #3: It looks like it. I think they're…
INSKEEP: You want to go check on your son?
Unidentified Woman #3: He is in the red truck. He'll be fine.
INSKEEP: Do you want to go ground him now?
(Soundbite of laughter)
INSKEEP: When it comes to the presidential campaign, these Iowa voters will soon be more than spectators at a car crash.
(Soundbite of music)
INSKEEP: We are reporting from Iowa, the scene of NPR's Democratic presidential debate later today.
MONTAGNE: And you can read a preview of today's NPR, an Iowa Public Radio Debate, at npr.org, plus hear the debate live starting at 2 p.m. Eastern Time.
NPR transcripts are created on a rush deadline by Verb8tm, Inc., an NPR contractor, and produced using a proprietary transcription process developed with NPR. This text may not be in its final form and may be updated or revised in the future. Accuracy and availability may vary. The authoritative record of NPR's programming is the audio record.
Iran Sparks Fireworks at Democratic Debate
Democrats Debate in Iowa (2 Hours)
Debate Check
As Democratic presidential candidates debated at a forum Tuesday sponsored by NPR and Iowa Public Radio, they sometimes raised more questions than they answered. NPR reporters provide a reality check.
Extra Question: The Economy
After the broadcast portion of the debate concluded, the candidates were asked one more question on the economy. Read and hear that conversation.
Debate Highlights
Hear audio highlights from Tuesday's Democratic presidential candidates' debate in Iowa:
Clinton: 'No Basis for a Rush to War' with Iran
Biden: 'I'm Advocating No War' with Iran
Obama: White House 'Should Have Stopped the Saber-Rattling' at Iran
Gravel: Why Can't Iran Support Hamas?
Kucinich: 'We're Borrowing Money from China to Finance War in Iraq'
Dodd: 'This Is an Adversarial Relationship' with China
Edwards and Dodd on Not Buying Christmas Toys from China
Clinton: 'Not Realistic' to Round Up all 12 Million Undocumented Immigrants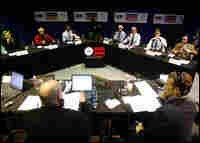 Democratic presidential candidates clashed over Iran, and tackled trade and immigration during a radio debate from Iowa on Tuesday. The forum, sponsored by NPR and Iowa Public Radio, comes just one month before the Iowa caucuses, at a time when polls show a tight three-way race among Sen. Barack Obama (IL), Sen. Hillary Clinton (NY) and former Sen. John Edwards (NC).
Sparring over Iran
The candidates were asked about a new National Intelligence Estimate that concludes Iran stopped work on its nuclear weapons program in 2003. The new report reverses the conclusion of two years ago that Iran was actively working on a nuclear weapon.
Clinton said she is relieved by the intelligence findings, and called on President Bush to pursue diplomacy with Iran.
Clinton has come under criticism from fellow Democrats for her September vote in favor of a Senate Resolution calling the Iranian Revolutionary Guard a terrorist organization. Obama — who skipped the vote while campaigning in New Hampshire — has said it gave President Bush a "blank check" to go to war against Iran. President Bush warned in October that a nuclear-armed Iran could trigger "World War III."
Edwards said Tuesday that the Senate had a responsibility to stand up to President Bush. "It's absolutely clear — and eerily similar to what we saw with Iraq, where they were headed," he said. Edwards noted that Clinton is the only Democratic presidential candidate who voted in favor of the resolution.
Sen. Christopher Dodd (CT) chimed in, saying the resolution, which he voted against, eliminated all options except a military one.
Clinton defended her vote, saying it was non-binding and did not authorize Bush to take any action against Iran. "I think we do know that pressure on Iran does have an effect," Clinton said.
Sen. Joe Biden (DE) challenged the idea that the Senate vote influenced Iran's nuclear plans. "With all due respect to anybody who thinks that pressure brought this about, let's get this straight. In 2003, they stopped their program," Biden said.
Rep. Dennis Kucinich (OH) said the new intelligence assessment confirms his earlier skepticism. "Just as five years ago, I warned that there was no evidence that would merit war against Iraq and warned this country not to do it, so for the past few years I've been saying that there's no evidence that Iran had a nuclear weapons program."
Kucinich complained that some of his fellow Democrats — Clinton, Obama and Edwards — still say "all options are on the table" when it comes to Iran.
Immigration Enforcement
The format of the debate was designed to encourage in-depth discussion of a handful of topics, including China and immigration. The candidates agreed that the federal government had failed to do enough to stop illegal immigration. But they said priests and doctors who assist undocumented immigrants should not be penalized.
"The point is, we're not going to deputize a whole bunch of American citizens to start grabbing people or turning them in," Obama said. He called for a crackdown on employers who hire illegal immigrants, but added there should be a pathway for immigrants to achieve legal status.
Clinton agreed on the need for tougher enforcement against employers, while voicing some sympathy for the immigrants themselves.
"What we're looking at here is 12 to 14 million people," Clinton said. "They live in our neighborhoods, they take care of our elderly parents. They probably made the beds in some of the hotels we stayed in last night." She added that immigration was not a big concern when the U.S. economy was producing more jobs.
Clinton said new immigrants should be encouraged to learn English, but she rejected a listener's complaint about government telephone lines with a "Push 1 for Spanish" option. She pointed to the wide range of languages spoken in New York.
"The city would be in total chaos if people didn't get some services and some help in a language they understood," Clinton said.
Dodd warned that Republicans would use immigration as a wedge issue. Former Sen. Mike Gravel (AK) said the immigration debate was making a "mountain out of a molehill."
Urging a Tougher China Policy
Trade has also become a major concern for American voters, even in Iowa, which enjoys a large trade surplus with the rest of the world. Many Democrats are skeptical that globalization is good for the U.S. economy. Several of the candidates said the government should take a tougher line against China.
"We have not been the best negotiators, and often times, we're negotiating on behalf of Wall Street instead of Main Street," Obama said.
Edwards echoed that view, saying big corporations are driving American policy toward China. "They get their way and the American people lose," he said.
Clinton responded to a mother's question about dangerous toys from China, saying the Bush administration has "essentially defanged the Consumer Product Safety Commission."
Edwards and Dodd, who both have young children, vowed not to buy any Chinese-made toys this Christmas. "My toys are coming from Iowa," Dodd joked.
Race Tightens
Tuesday's two-hour debate comes at a critical time in Iowa. With just 30 days before the first-in-the-nation caucuses, polls show a tight race, with Obama, Clinton and Edwards in a virtual tie. More than half the Iowa voters surveyed by The Des Moines Register still say they might switch their allegiance when the caucuses are actually held.
Clinton still holds a lead in national polls, so rivals see Iowa as the best opportunity to slow her momentum. Obama, who has been gaining in Iowa polls, could get a boost later this week when he campaigns to sellout crowds alongside celebrity endorser Oprah Winfrey. Obama is also outspending Clinton on Iowa TV ads.
All of the Democratic presidential candidates took part in Tuesday's debate except New Mexico Gov. Bill Richardson, who was attending the funeral of a Korean war casualty whose remains he helped to repatriate.
Republican candidates are not as single-minded about Iowa as the Democrats are, but a close race is shaping up there as well. The Des Moines Register poll found former Arkansas Gov. Mike Huckabee edging ahead of longtime Iowa front-runner Mitt Romney, the former governor of Massachusetts. Romney, in a possible nod to Iowa's large evangelical community, plans a major speech on Thursday to discuss his own Mormon faith.
NPR and Iowa Public Radio planned to host a Republican debate this week, but the leading Republicans declined, citing scheduling conflicts. NPR is now working with the various campaigns to identify a suitable date and location.