Crazy Plan for Carbon Pollution Just Might Work
Crazy Plan for Carbon Pollution Just Might Work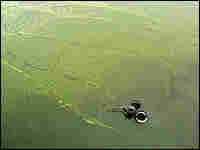 If you dumped iron filings into the ocean, says Columbia University scientist Bob Anderson, phytoplankton would bloom and suck carbon dioxide out of the air. Sound mad? Maybe.
Anderson is among a growing number of scientists who say that global warming is becoming so urgent a problem that the time has come for fast-acting, radical ideas — even ones that sound wacky.
Terrestrial plants draw on iron in the soil, explains Anderson, who's part of Columbia's Earth Institute. Oceanic plants love iron, too — and if you pour bits of it into the water, they'd start growing like gangbusters.
Because plants use carbon dioxide as fuel, Anderson says, the rapidly expanding population of phytoplankton would first gobble the carbon dioxide in the water and then start pulling the chemical from the air.
"They will use more than is available and that will cause carbon dioxide to sort of diffuse into the ocean," he says.
On the plus side, he says, putting iron fillings into the ocean is already doable. And it would be relatively cheap. The downside is that there could be unknown bad consequences. Among the known ill effects would be a likely increase in nitrous oxide — itself a potent greenhouse gas — leaving the water and entering the air.
Feeding iron to the phytoplankton could reduce the total greenhouse emissions from fossil fuels by something like 10 percent. "And that's if we did it perfectly," Anderson says.
On our blog, a compendium of wacky ideas.